REDLANDS, Calif - The Redlands Police Department reminds drivers to watch out for bikes and follow right-of-way laws to keep pedestrians safe.
Why it matters: As part of a bicycle and pedestrian safety operation, RPD ticketed 28 drivers on Friday, Sept. 8, according to a press release sent from the Department.
Details: Drivers were cited for things including stop sign violations, failure to yield to a pedestrian, unlawful cell phone use, unsafe speed, suspended license, failure to obey traffic signs, and blocking a crosswalk.
"Safety is a shared responsibility, with drivers holding the greatest responsibility to keep other road users safe," Redlands Police Cpl. Martin Gonzalez said. "We hope this operation serves as a reminder to everyone to practice due care and to look out for one another."
A grant from the California Office of Traffic Safety provided funding for this program.
Big Picture: Based on data projections from the Governors Highway Safety Association, 7,500 pedestrians were killed in traffic crashes in the U.S. in 2022, the highest number since 1981. In California, pedestrian deaths account for more than a quarter of all traffic deaths.
RPD officers recommend that pedestrians be predictable and use signalized crosswalks where drivers may anticipate foot traffic. Officers remind both drivers and pedestrians to stay off the phone while driving or walking.
As of January 2023, California state law requires motorists approaching or passing a cyclist on the road to switch lanes if another lane is available. If no lane is available, drivers must keep at least a 3-foot distance from the cyclist. Bicyclists must obey all road signs and signals.
Bikes have become increasingly common on roadways in Redlands. In the last eight years, Redlands has added approximately 65 miles of bike trails and bike lanes throughout the city.
The map below shows the roughly 83 miles of the 2023 Redlands Bicycle Network.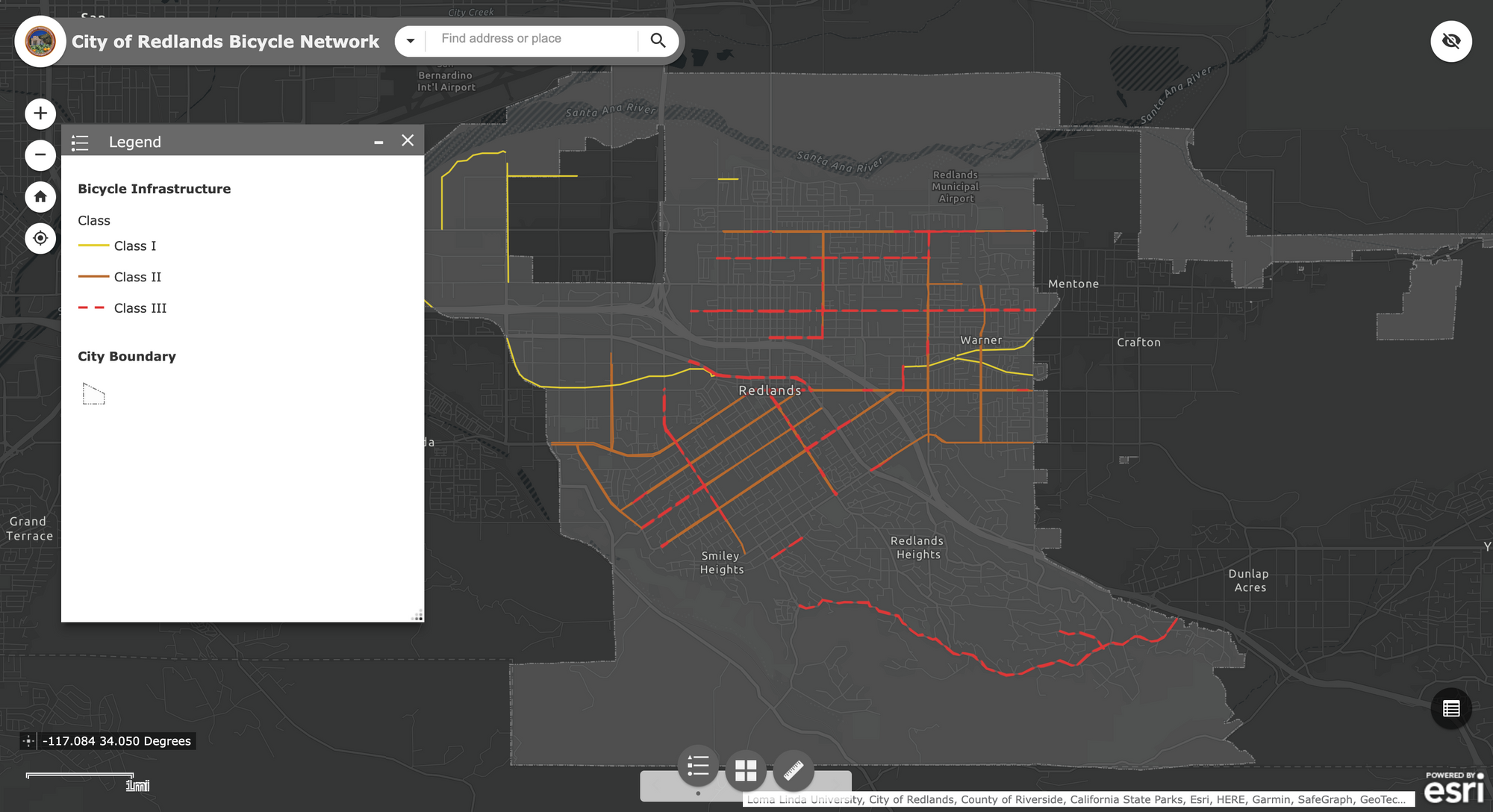 In 2015, just 18 miles of bike lanes and trails were identified on the Bike Master Plan.
Moving Forward: Share your thoughts about pedestrian safety by participating in the Go Safely Movement, a call-to-action traffic safety survey from the California Office of Traffic Safety.
Take the survey at www.gosafelyca.org.
---
Comments