Redlands, Calif. - The Redlands Police Department is investigating a handful of robberies in Redlands, including a carjacking at Redlands High School, a retail robbery at Citrus Plaza, and two muggings near the Mountain Grove shopping centers that all happened this past week.
Why it matters: According to police reports, there has been an uptick in robberies this month in Redlands, especially in the Mountain Grove shopping center and Citrus Plaza.
Details: According to police, a 16-year-old Redlands High School student was the victim of a carjacking on Monday night, Sept. 18. Police say the student was leaving basketball practice when he had his car stolen from him. The suspect allegedly told the victim he had a gun and ordered the teenager out of the car. Police say the vehicle went north out of the parking lot on Church Street and was later located on Lombard Drive and Brockton Avenue. It was returned to the owner.
RPD is investigating a robbery at Bath & Body Works in Citrus Plaza. Redlands Police are looking for three women who they say stole thousands of dollars worth of merchandise from Bath and Body Work in Citrus Plaza on Wednesday, Sept. 20.
According to the police report, three women filled trash bags with $4,000 worth of merchandise, including candles, lotions, and perfumes. The suspects then threatened a store employee and threw a candle at them before driving off in a silver Chevrolet sedan.
Redlands Police are also investigating two muggings in the area on Friday night, Sept. 15. One happened outside Target near Cirtus Plaza. Two teenage suspects hit the victim from behind, took the man's wallet, and fled into a crowd of teenagers.
The second happened outside Harkins Theater in the Mountain Grove shopping center. Police say two teenage girls assaulted and robbed two people in the parking lot behind the theater. Officers on the scene located the suspects and returned the stolen purses and cell phones to the victims.
Big picture: According to crime data, more robberies have occurred in the Redlands shopping center in the past three weeks than the five months prior. So far this month, six robberies have occurred in the Mountain Grove and Citrus Plaza shopping centers. From April through August 2023, there were five robberies in the same area.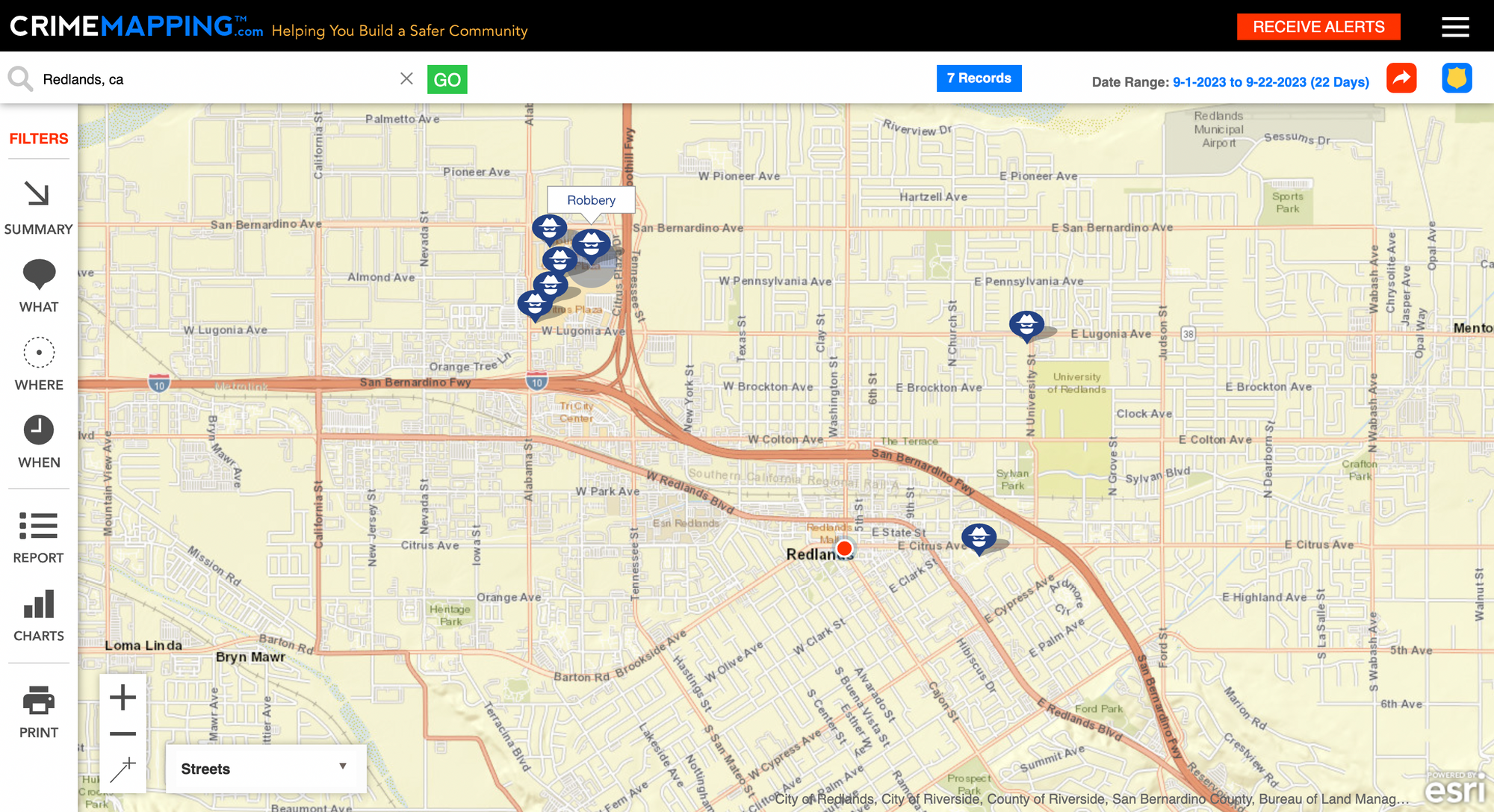 Earlier this month, Redlands Police warned of an increase in vehicle burglaries in and around Citrus and Mountain Grove Plazes, according to a social media post by the Redlands Police Department.
---
Comments