Hello! Welcome to Part 2 of 3 in the series on housing in Redlands. You can read last week's newsletter here. This week, catch up on the latest update on the proposed renovation eviction ordinance. Then a look at affordable housing in Redlands and what's being done to ensure everyone in our city has a place to live.

NEWS FROM CITY HALL
New guidelines for landlords, aid for tenants passes City Council 4-1
Property owners now have additional steps to take before ordering a renovation eviction in Redlands. On Tuesday night, Redlands City Council voted in favor of an ordinance that provides new guidelines for landlords, who need to evict tenants in order to complete a demolition or a substantial remodel of their property. The ordinance goes beyond state law to give tenants additional relocation funds and legal recourse when a landlord orders evictions for substantial remodel.
City Council voted 4-1 to adopt the ordinance, with Council Member Mick Gallagher (District 5) voting against the measure.
The Backstory
Earlier this year an out-of-town property owner, Doug Wetton Investments, purchased both Las Casitas Apartments and Brookside Patio apartments in Redlands. The property owner then ordered residents to vacate within 60 days claiming the need for substantial remodeling. Residents claimed the updates were cosmetic in nature and not substantial enough to justify the notice to vacate.
California law permits landlords order evictions in the case of demolition or substantial remodel. To be considered "substantial" the remodel must involve extensive work, like structural, electrical, mechanical, or plumbing, that requires permits, would take more than 30 days to complete and would make it impossible for the tenant to safely remain in place. The new ordinance provides additional guidelines to ensure the landlord is genuine in their intent to substantially remodel their property and requires the property owner to:
obtain all permits related to the project before issuing eviction notices,
include a copy of the permit plus an explanation of the project scope, why the tenant must be off the property for at least 30 days, and why the work cannot safely be done with the tenant in place, and
help the tenant relocate with two months of rent or $4,500, whichever is greater.
If a property owner is found in violation of the ordinance the owner is liable for up to $15,000 and/or attorney's fees to each tenant.
Leading Up to the Vote
On Tuesday evening, the City Council chambers were filled with both supporters and opponents of the measure who came to speak during public comment. One of the speakers was property owner Doug Wetton. Wetton said he is not opposed to the ordinance that clarifies the California law. However, he said, providing $4,500 in relocation fees per tenant was not something he anticipated.
In a letter Wetton sent to City Council earlier in the week he laid out his renovation plans to re-roof the property plus add "exterior paint, refreshed landscape, carports, parking lot, and laundry rooms…brand new cabinets, new electrical outlets and switches, energy-efficient LED lighting, low flow toilets and faucets, new flooring and fixtures throughout, new paint and removal of old textured ceiling, and water heaters and HVAC upgrades where needed."  In the letter, Wetton acknowledged that not all of the projects will require a permit but claimed the project is both substantial and requires more than 30 days. He goes on to write that tenants can move into a new unit at the new rental price stating,
"Tenants are more than welcome to transfer to a renovated unit at the new rents. And it's always good to remember that market rents are what the market determines, not us."
During Tuesday's meeting, City Council Member Jenna Guzman-Lowery  (district 4)  read aloud and replied to the statement above during her prepared remarks saying,
"I don't care what the market says. What's a working family supposed to do when wages have not kept up with this market we're so quick to blame the issue on? What happens to families that are on a fixed income who will never see a wage or supplemental check to keep up with the inflation of this disembodied entity that is the market we always speak of?"
Guzman-Lowery (District 4) encouraged her colleagues to consider the human toll of apartment renovations. She considers this ordinance to be a preventative measure in the fight against homelessness.
Council Member Tejeda concurred with his colleague Guzman-Lowery that it is the responsibility of the City Council to look out for those who cannot provide for themselves.
Tejeda supports the ordinance. He pointed out that ultimately the measure doesn't prevent property owners from going through with renovations but it buys time for tenants facing eviction,
"it is a stop-gap unfortunately I think, the renovations will probably go forward and people will be evicted. I'm sorry we can't prevent that one hundred percent from happening, I wish we could."
After asking for clarification on the ordinance, Mayor Paul Barich said he doesn't have a problem with making sure a landlord is held accountable for the renovations. Barich said that risk is a part of business and sometimes things don't work out for the investor.
Voting against the ordinance was Council Member Mick Gallagher who currently holds the District 5 seat vacated by former Mayor Paul Foster.
Considering the interest of the property owner, Gallagher says he's against the ordinance because he didn't want to change the rules on the investor who has already purchased the property. He went on to say that he believes the property owner is showing intent to renovate the property substantially and it is within his rights to order the tenants to vacate. Gallagher said that helping the residents is also important but was unable to name a program or alternative measure that would help their situation saying,
"I think it's important we have things out there available, but if a person can't afford their rent there are other means to find it. I think that the city might even be able to help with that. I'm not sure what those things are… but not the apartment owner who's bought that building to make a profit."
Gallagher says he's concerned about the impact the ordinance will have on the willingness of future investors to purchase in Redlands. He encouraged tenants who couldn't afford the new market rate of $2,350, up from their current rate of $1,200, to seek assistance in paying rent.
Residents Share Concerns
During public comment, multiple residents expressed exasperation at the lack of affordable housing options and the difficulty in getting rent assistance programs. Some of the public commenters included a county employee, a mother of three school-aged children, and a long-time resident of Las Casitas. Residents shared that increasing rent by more than 60% would be too much of a burden to stay at the property. Some also questioned where they would be able to find affordable housing in the city they have been living and raising families in for years. The last man to comment expressed his concern that housing is treated like any other commodity, not a basic need. He shared his story of being asked by a landlord to vacate his rental and being paid $10,000 to relocate. He suggested the possibility that this property owner and the residents of Las Casitas could reach a similar agreement.
The urgency ordinance goes into effect immediately. It applies to both future tenants facing renovation eviction and to any tenant who has already received a renovation eviction notice, is still in possession of their unit, and whose eviction notice hasn't expired.
You can watch the City Council meeting here: http://redlandsca.swagit.com/play/08032022-588/#0
---

REDLANDS AT LARGE
The Affordable Housing Crisis
The discussion of renovation evictions puts a spotlight on a larger issue at stake, affordable housing in Redlands. In the end, landlords have the right to substantially remodel their property, raise rent and potentially displace tenants. At the core of the issue is the lack of affordable housing options available for those who find themselves victims of renovation eviction.
Rising Rent, Stagnant Wage
Rent prices have been rising in communities across the county. When looking at rent prices compared to the percentage increase in income over the last 6 years, it's impossible for some residents to keep up. Rental prices have outpaced wages dramatically. The graph below shows how household incomes have not kept up with the rising cost. The median rent in Redlands has risen 87% since 2014. From 2014 to 2020 the median household income has risen by 20%. Similarly, the rent at Las Casitas is going up by 60% with no reporter change in tenant wages.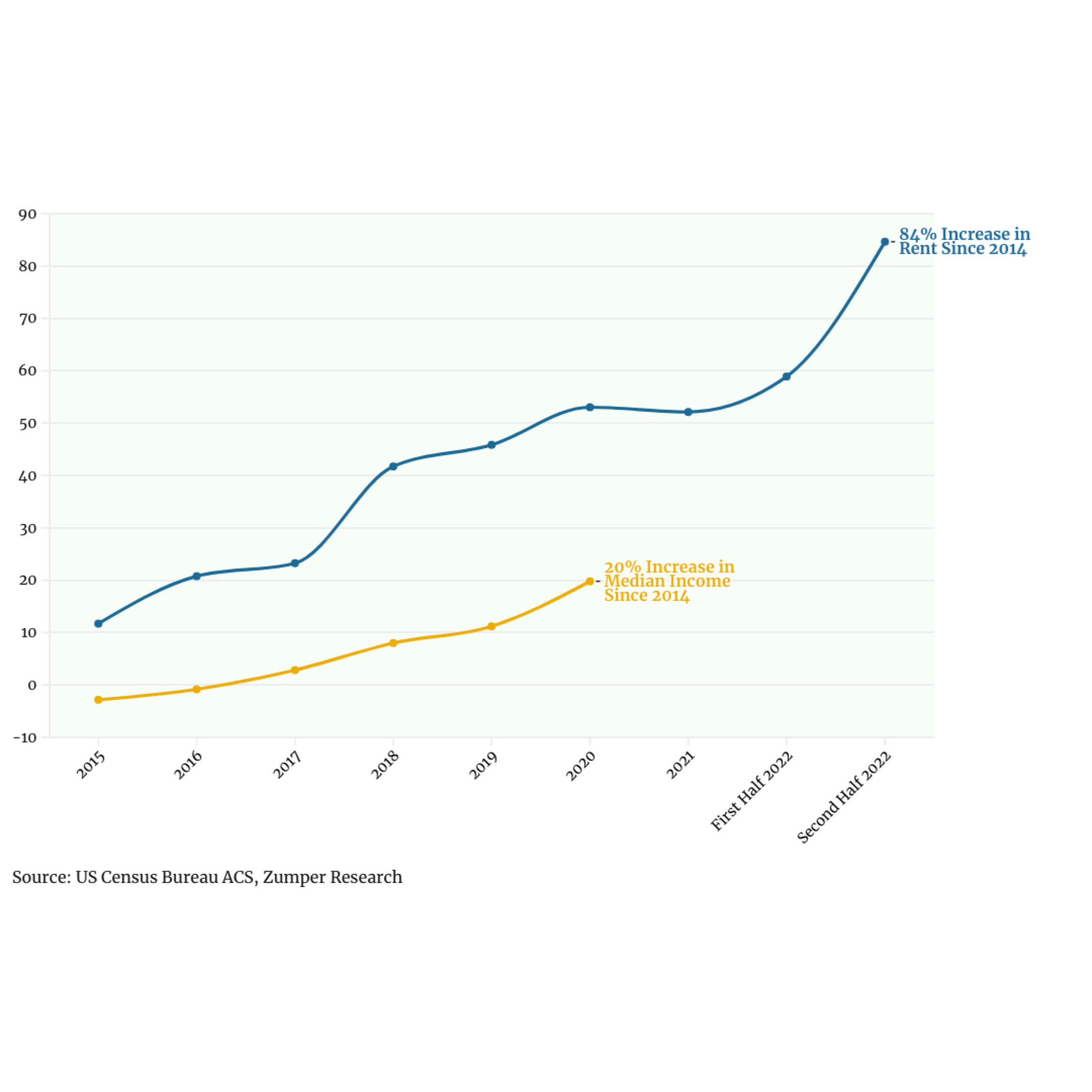 Where's the affordable housing?
Experts say spending more than 30% of income on housing costs can put a household at risk for homelessness. The dark blue dots on the map below show where households in Redlands far exceed this housing burden, spending more than 50% of their income on housing. In the area of Las Casitas apartments, 30% of renters have a severe housing cost burden, paying 50% or more of their income on housing. When faced with an eviction notice, and an increased rent by 60%, the housing cost burden is further exasperated and the ability to find affordable housing in Redlands for these residents becomes unlikely. Explore the map more by clicking the link on the map.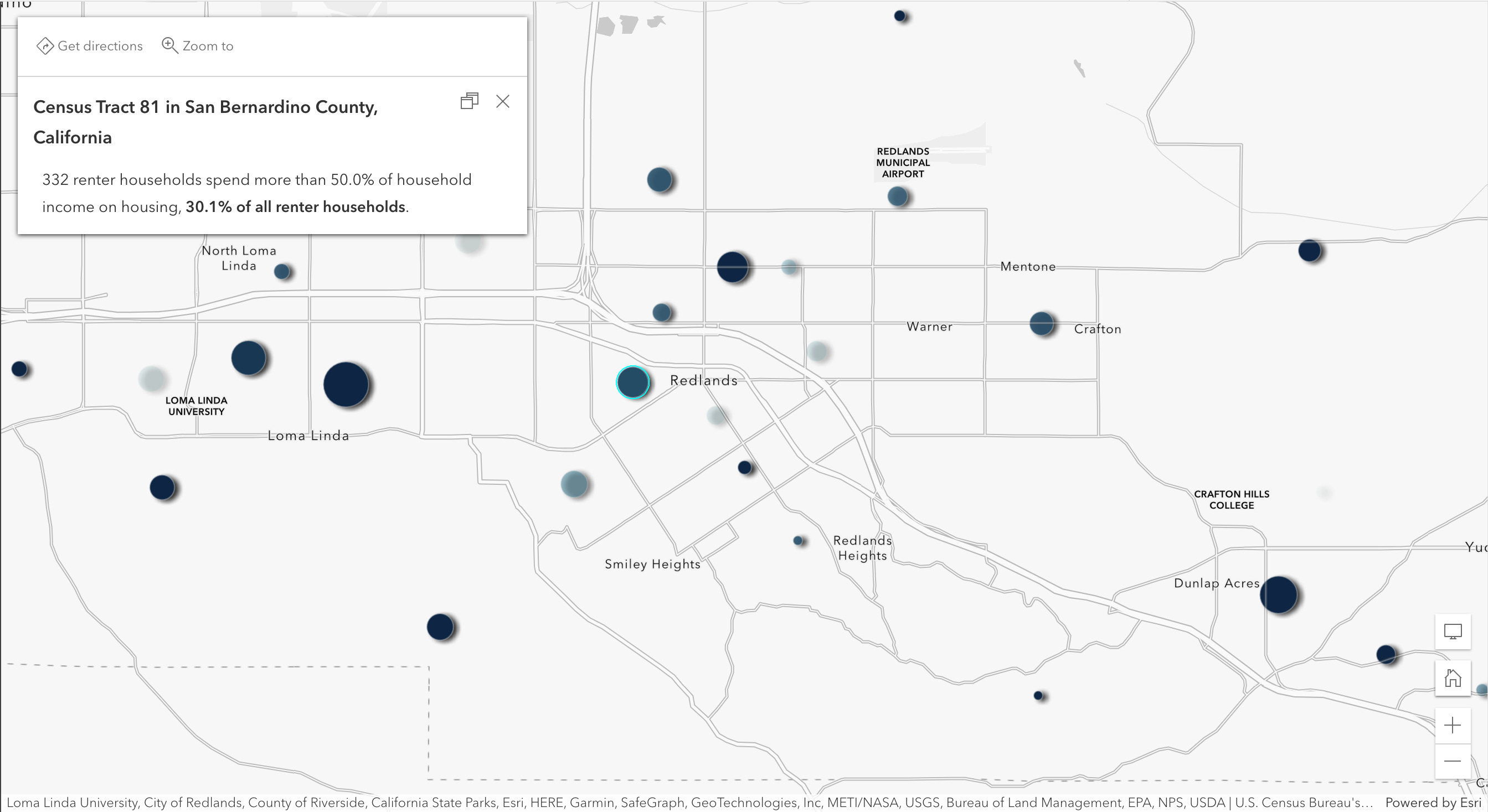 What is Redlands Doing About it
Housing Element Update
The need for affordable housing is addressed in the Housing Element Update 2021-2029. This document is currently being drafted by city staff and reviewed by the state of California. As part of the city's General Plan, the Housing Element is updated every 8 years. The update is a chance to look at demographics, potential locations for new housing, and housing resources. It also lays out possible housing policies, programs, and goals.
One major goal of the Housing Element is to outline plans to create housing for various income levels. The Regional Housing Needs Assessment put Redland's housing need at 3,516 units across all income levels. However, the need for very low-income housing is growing at a faster rate than above moderate housing. From cycle 5 (2013-2020) to the current cycle the need for very low-income housing has risen by 67% while the need for above moderate-income has risen by 28%.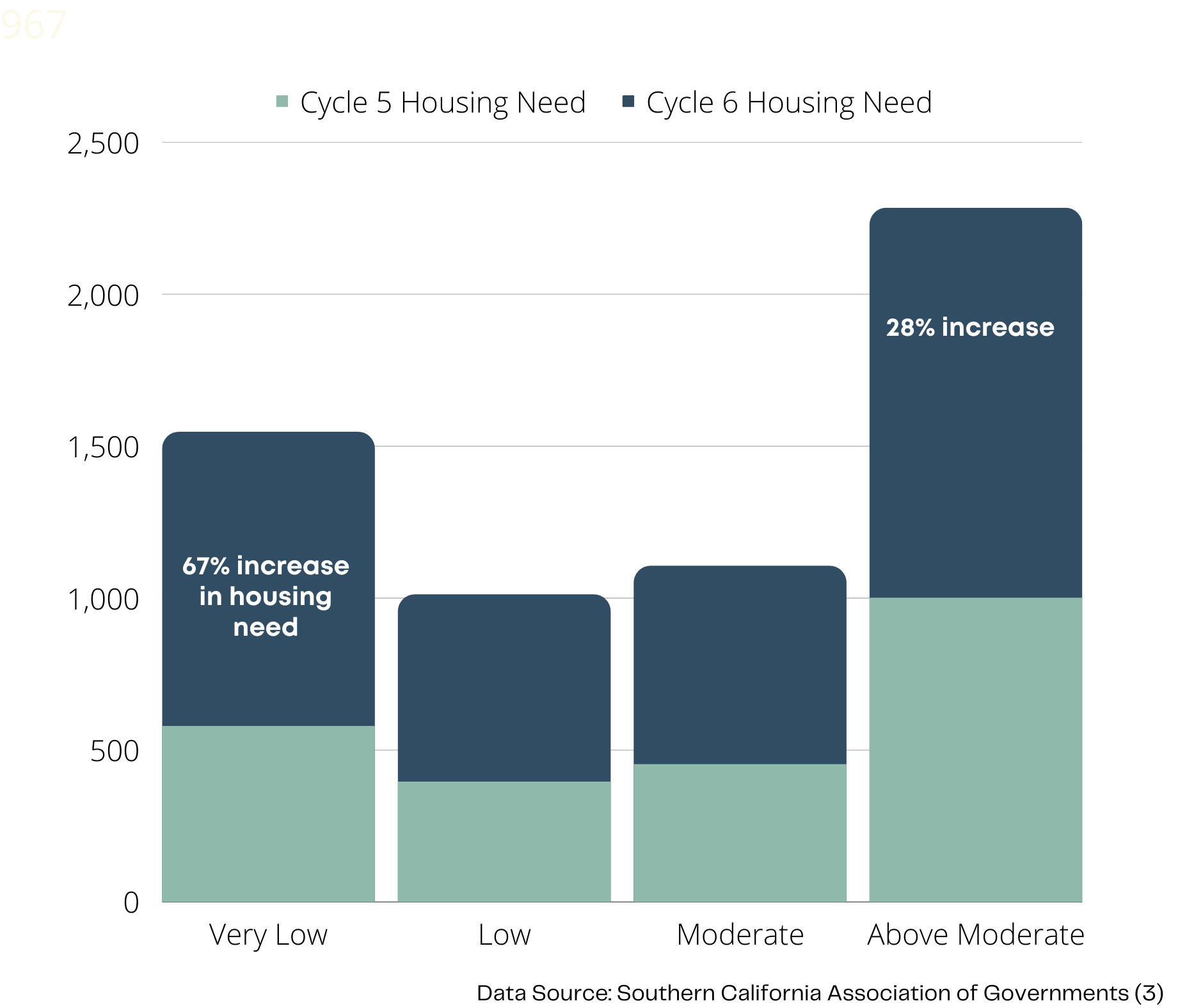 The new renovations and subsequent rent increases at Las Casitas Apartments will take housing away from very low and low-income levels. While adding housing choices for higher income levels.
The housing element proposed zoning for each income level is found on page 78 of the Housing Element Update. Policy proposals to increase housing availability include opportunities to convert single-family dwellings into multifamily housing, a study on inclusionary housing policy, and plans for affordable housing developments.
Addressing Very-Low Income Housing
One of the new developments planned to help the very low-income residents in Redlands is moving forward. The City of Redlands announced on Thursday, August  4th, the groundbreaking for a new supportive housing development for the City's most vulnerable residents. Partnering with Shangri-La Industries and Step Up on Second Street, the project will transform the Good Night Inn motel into permanent supportive housing with 99 units. Funding for the project came from the State of California's Homekey initiative.
In a city that prides itself in a strong sense of community, the need for housing that fits all household incomes is becoming a priority. Next week the newsletter will look in more detail into the Housing Element Update and what other similarly sized cities in California do to provide housing for all residents.
AND FINALLY
What do you think?
---
Comments