Redlands, Calif. – Emerging local leaders are partnering with the City of Redlands and the Common Vision Coalition to host Movies in the Park in North Redlands and raise money for beautification efforts in the area.
Leadership Redlands, a Redlands Chamber of Commerce program, spearheads the events on Friday, September 8 and 15 at Redlands Community Park.
More than a movie night
Organizers say it's more than a free outdoor movie night. It's also a chance for the community to raise money to enhance public and private spaces in North Redlands.
While entry to the outdoor movie is free, fundraising activities will include opportunity drawings, games for kids, and food booths. Money raised will go to the newly established North Redlands Beautification Fund.
Alicia Gyllenhammer, a Leadership Redlands participant, explained how this project has become a community effort.
The North Redlands establishment, Uncle Howie's Pizza, is donating 60 pizzas* Friday night to contribute to the fundraising efforts. There will be several organizations present at the event, providing information on how to get involved in the community and offering support to local families, including Common Vision Coalition, YMCA of East Valley, Family Services of Redlands, Redlands WIC program, Boy Scouts, Redlands Fire Department, Accelerate Neighborhood Climate Action (ANCA) and A.K. Smiley Public Library - Youth Services.
"We really wanted to have this effort bloom, and it has. The whole entire community has really wanted to walk alongside us and see this as an annual event in North Redlands," said Gyllenhammer.
Leadership Redlands has the goal of raising $10,000. All proceeds will go into the North Redlands beautification initiative and will be used in three ways:
Upgrades to Community Park
Utility box art in public places programs - with the plan to wrap two utility boxes off Orange and Colton.
Micro-grants for North Redlands businesses to improve landscaping and curb appeal around their business.
Gyllenhammer said it's the perfect event to bring the whole family together and help make our community better for everyone.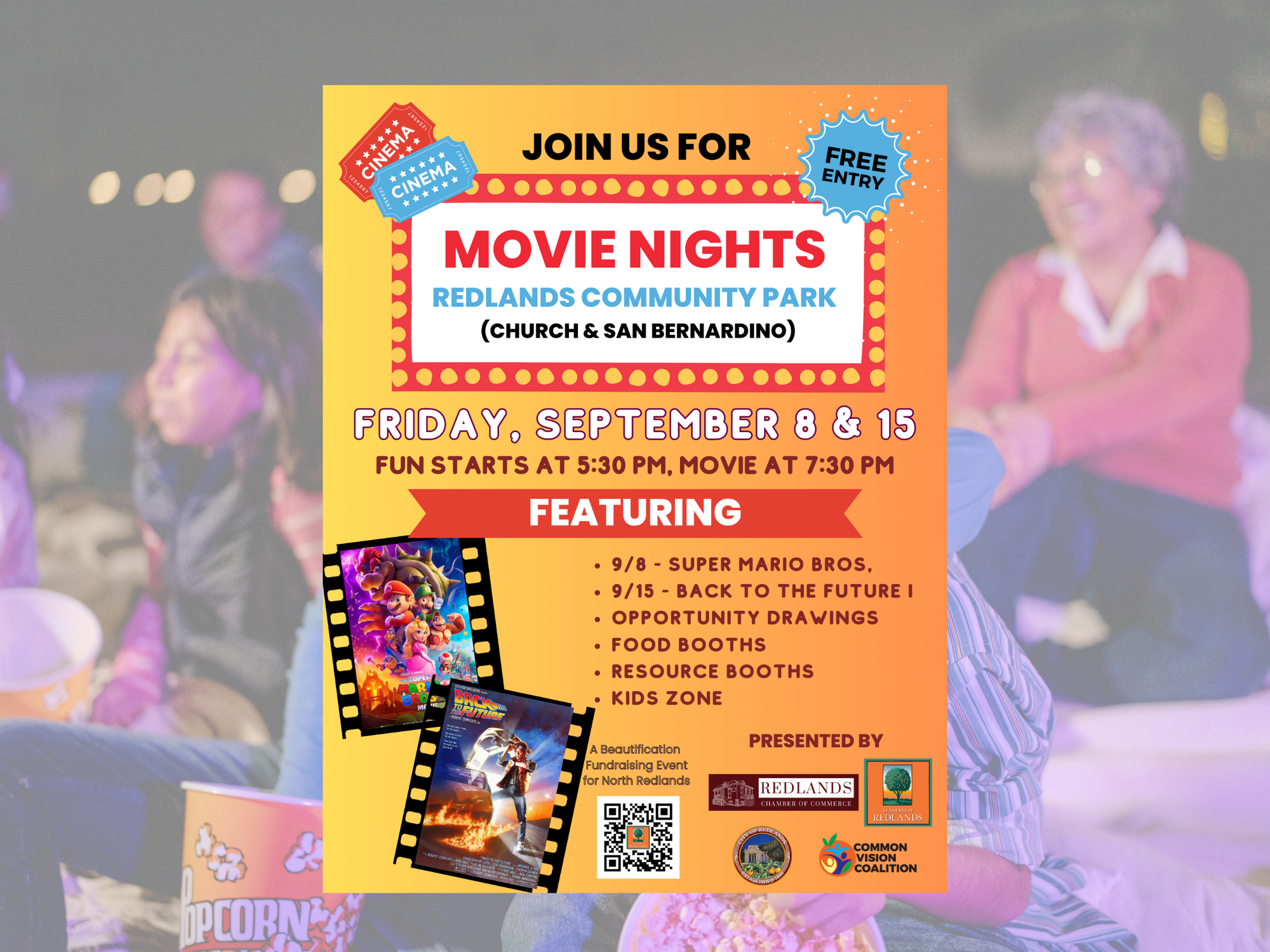 Bringing Movies in the Park back to North Redlands.
In recent years, Movies in the Park has only taken place at Brookside Park. But that wasn't always the case. The City's Parks and Recreation department once hosted outdoor movie nights at parks throughout the city. Over the years, it went away because of a lack of funding, according to Council Member Mario Saucedo.
The Leadership Redlands class was inspired by the 2006 North Redlands Vision Plan, which included a request from the local community for Movies in the Park.
Saucedo, alongside his wife Maria Whitaker-Saucedo, Co-Founder and Vice-Chairperson of Common Vision Coalition, was instrumental in developing that plan nearly 20 years ago. It includes recommendations for infrastructure, housing, and cultural and community events in North Redlands.
Saucedo says the living document has inspired many successful initiatives to improve life in North Redlands, including the $3.5M Paint-Up Fix-Up Program to improve 350 houses, the revitalization of The Terrace, and the first affordable senior housing development, Vista Del Sol.
Now that plan is being used again, this time to bring Movies in the Park back to North Redlands and support further neighborhood beautification efforts.
"I think what the Leadership Redlands has been able to identify, after reading the vision plan and considering what kind of things we can collectively do, is that there are businesses in North Redlands that could benefit from exterior improvement, signage, and beautification," said Saucedo.
This year is the first time the event will also include a fundraising component with involvement from across the community.
"We're really excited to have this return back to the families, and we're hoping for a big success," said Saucedo.
Movie line-up
Friday, September 8th - Super Mario Bros
Meet and greet with Super Mario characters at 5:30 pm
Friday, September 15th - Back to the Future
Costume Contest - wear your best 80s outfit
Where: Redlands Community Park, Church St and San Bernardino Ave.
When: Opens 5:30pm, Movie 7:30pm
*It was initially reported that Uncle Howie's Pizza would donate 300 pizzas both evenings. The company has since adjusted its donation to 60 pizzas on Friday, September 8.
---
About Leadership Redlands
The Leadership Redlands program develops our community's next generation of active leaders. Decision-makers from local businesses, government agencies, non-profits, and higher learning participate in a 9-month interactive program devoted to key regional issues at locations throughout Redlands. Graduates of Leadership Redlands will go on to contribute in various ways, after getting invested in the community. Applications are now being accepted for the 2024 class. Learn more here.
Comments