REDLANDS, Calif. - Work on next year's budget is underway at City Hall with a slew of new project proposals from City Council Members.
At a Special Meeting on Tuesday, August 22, City Council held a workshop with City Manager Charles Duggan to present their priorities and project ideas.
The purpose of the meeting was to determine which projects city staff should spend time vetting, researching, and presenting back to the City Council.
According to Duggan, the goal is to have project reports presented to the City Council before the next budget approval in June 2024. Reports are expected to include project feasibility, estimated costs, and recommendations.
Here's a deeper look at the new projects the City Council agreed to direct city staff to spend their time researching.
Transportation and clean air
Ordinance to ban gas-powered leaf blowers - This proposal came from Council Member Denise Davis. Davis said the idea originated in her Climate Action Committee, inspired by the work of James and Deborah Fallows. The Fallows were instrumental in banning gas leaf blowers in Washington, DC. (You can read more about that here).
Davis said that while banning gas leaf blowers would improve air quality, it comes with some "logistical issues." One of these issues is the costly transition to electric blowers for local landscape businesses. A ban on the sale of new gas leaf blowers goes into effect in California in 2024. A handful of California cities, including Pasadena, have already banned using gas leaf blowers.
Bike Share Program - A city bike share program provides bikes, often parked at public docking stations, for individuals to use around town at a low cost. Davis and Council Member Jenna Guzman-Lowery said they first proposed a bike share program about two years ago. Guzman-Lowery encourages the program as good for the environment and aligns with clean air transit goals. Plus, she said it's fun. "There's just a lot of vitality that it brings to your downtown environment, and I think that's something we're in need of." One comment from the public suggested safety for cyclists and the need for additional research to improve bike lane infrastructure.
Community Outreach
Mental Health Response Team - Guzman-Lowery said this proposal arose from what she calls a "necessary element of mental health responses to emergency situations." Guzman-Lowery, a mental health professional, requested the city explore what it would look like to include a mental health responder in certain emergency calls, such as domestic violence, sexual assault, and suicide. One goal of the mental health responder would be to help reduce violence and de-escalate situations.
Infrastructure and Business Improvement
North Redlands Economic Development/Opportunity Zones - This proposal involves increasing opportunities and removing barriers for new businesses to develop in North Redlands. Proposed by Guzman-Lowery, a plan to address "dead zones" in North Redlands could include incentives for small businesses and the removal of some administrative red tape. The Council recommended continued involvement with the Redlands Chamber of Commerce in developing a proposal.
Broadband access - In Redlands, some households still use dial-up internet in 2023. The City Council wants to learn how to address this. As proposed by Guzman-Lowery, expanding broadband internet to every corner of the City could be accomplished through federal grant money and programs. One such program is called Broadband for All. Some West Redlands and Live Oak Canyon areas lack sufficient broadband access. Here's a look at where.
This map shows broadband speed within the City of Redlands. Areas in purple have speeds below the acceptable threshold score of 100. Click on the map to explore more.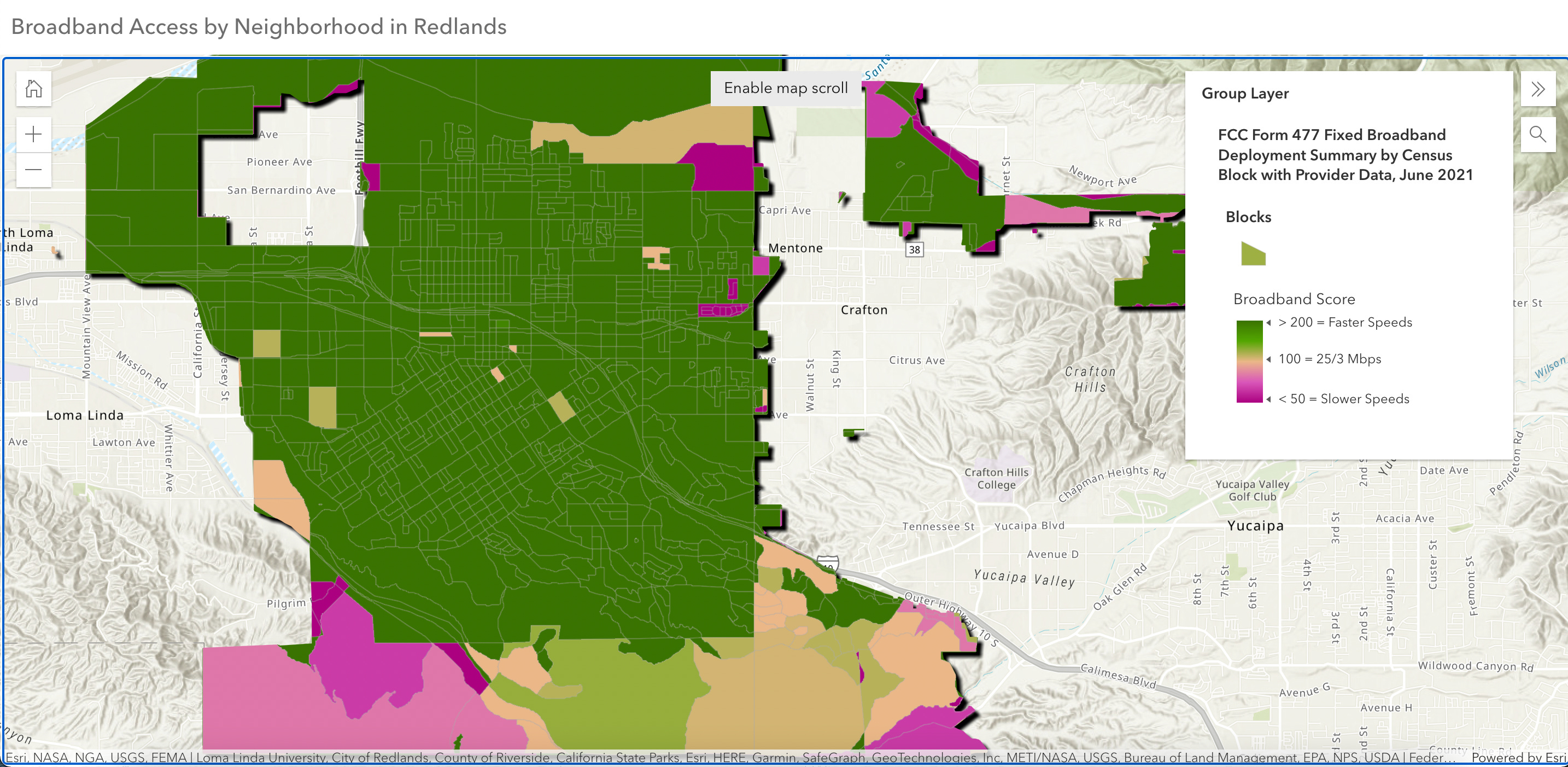 Revenue Streams and Cannabis
Cannabis Tax - Besides proposing new programs, Guzman Lowery brought a solution to cover the cost. A new revenue stream could come from the sale of cannabis within the City of Redlands. While some council members were skeptical of the proposal, the City Council ultimately agreed to hear a report from city staff about what this would entail. Cannabis has been legal in California since 2016.
Three proposals that are already part of city initiatives
According to the City Manager, staff are already considering some of the City Council proposals as part of other projects. These items are expected to come before City Council in the future.
Free Ride Service - Davis proposed research into a free shuttle service similar to the FRAN shuttle system in Anaheim. The proposal will be considered within ongoing research into parking and transportation solutions in the downtown area.
Landscaping plan for Santa Ana River Bluffs Trail - Council Member Mario Saucedo suggested revitalizing old plans for landscape improvement in the area from Cave Street to Riverbend Drive. Saucedo envisions connecting Israel Beal Park to the bluffs trail via an underground path or overpass at Orange Street as a long-term goal. City staff is currently considering the landscape improvements in overall city planning and will provide the Council with short and long-term recommendations for the area.
Parking Garage at City Hall - Mayor Eddie Tejeda could not attend the meeting. The City Manager shared Tejeda's proposal to have staff draw up plans for a parking structure at City Hall to use after City Hall moves to State Street in 2025. According to the City Manager, the cost estimate for this project is up to $62 Million ($62,000 per parking space at 1,000 recommended parking spaces). The downtown parking issue will be considered this fall when the City's parking study is presented to the City Council. You can read more about the parking study here.
Final Note
The proposed projects are priorities and proposals for the 2024/25 fiscal year. If you would like to explore more about what project council members have proposed in the past you can look here.
To get updates on these proposals and news from City Hall straight to your inbox, subscribe below.
---
Comments