REDLANDS, Calif. — Earlier this month, Redlands City Council unanimously recognized Nov. 20 as National Transgender Day of Remembrance in Redlands. The proclamation, presented by council members, Denise Davis and Jenna Guzman-Lowery, was created to recognize the lives lost to transgender acts of violence. Here's an excerpt:
"Our entire community is diminished when we lose the talents and contributions of any member of our community prematurely, whether due to direct anti-transgender violence or due to suicide or other health or mental health effects resulting from trauma and/or discrimination; and …we affirm the ongoing commitment to promote their full inclusion into our community."
After the proclamation was presented to local residents, the City Council voted unanimously to accept the proclamation. Following the presentation, Mayor Paul Barich added, "violence of any sort is not tolerated in Redlands."
In response, one resident spoke during public comment to thank the Council. He explained his sister is transgender and that public support of the transgender community matters to his family.
"Feeling safe and welcomed and accepted and supported is really really important. Redlands has been a place where she has felt that," he told the City Council.
Following his comments, another man spoke in opposition to the proclamation. He claimed, "as long as there has been multi-celled life on earth there has been two genders…and never any species, any time can you change between them." (There are 11 species that are capable of naturally changing between male and female.) He continued to share his opinion that transgender individuals are a "concoction of the political left in recent years." He also claimed there is an agenda to take children who are "confused by their gender" for sterilization and mutilation.
The man finished his comments uninterrupted during the 3 minutes allotted to each person for public comment.
City council members generally do not respond to public comments but in this case, Guzman-Lowery responded by saying:
"I will not stand for false and violent language like that. I want to speak on behalf of myself and the leaders of the community…That is not the truth, it is sensationalized language you are using to incite fear and to hurt people and it's not the truth."
Davis also responded to the comments underscoring the higher-than-average suicide rates among LGBTQ youth.
Violence against transgender people has been on the rise since 2020. According FBI hate crime statistics anti-transgender incidents are up 41% and anti-gender non-conforming incidents increased 13% in recent years.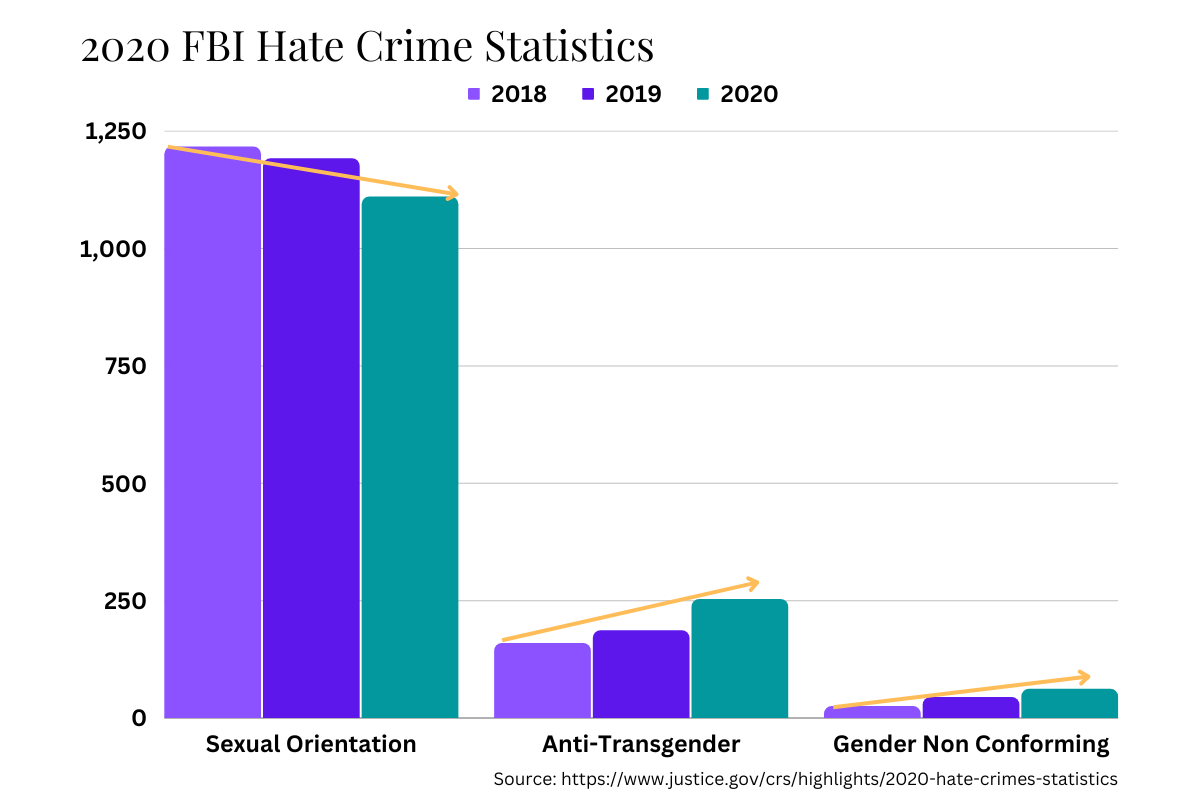 A UCLA study found that "transgender people are over four times more likely than cisgender people to experience violent victimization, including rape, sexual assault, and aggravated assault."
Davis pointed the community toward the Trevor Project where LGBTQ youth can find mental health support.
You can watch the full public comments from the recorded city council meeting here on the City's website.
Harassment from Anti-Trans Activist
By Saturday, an alt-right online influencer and member of Gays Against Groomers, Frank Rodriguez, posted a clip of Guzman-Lowery's comments on his social media page. Rodriguez, who goes by the online name Info Savage, condescendingly addressed the council member:
"Jenna-Jenna-Jenna-Jenna-Jenna, look what we have here. So you think there are more than two genders? I'm going to go ahead and let you know that everything you told that man is absolutely false." He ended his 30-second sound-off with these words, "educate yourself sweetheart, you're doing a terrible job."
In the Instagram reel, which has been viewed more than 17k times, Rogriguez said to expect Gays Against Groomers to attend the next Redlands City Council meeting on Dec. 6.

If this group does show up next week, it won't be the first time they have come to Redlands to rally against shows of acceptance of LGBTQ students and families.
Gays Against Groomers calls itself "a coalition of gays against the sexualization, indoctrination, and medicalization of children." In October, they partnered with other right-wing political groups and local supporters of former school board candidate Erin Stepien at a Redlands Unified School District School Board meeting. Gays Against Groomers lead the chaos in bringing the school board meeting to a halt. They said they came to object to the local curriculum after calling school board members "pedophiles" and "groomers."
The word "groomer" - which describes the actions of an adult to victimize a child into sexual abuse - has become a new buzzword of right-wing rhetoric. It began to gain popularity this spring following the passages of Flordia's "Don't Say Gay" law. This group and others have weaponized the word in the fight against LBGTQ rights to imply the community and their allies are child abusers.
This group's rhetoric has led to calls for violence such as this comment found on the Instagram reel referring to the upcoming Redlands' City Council Meeting: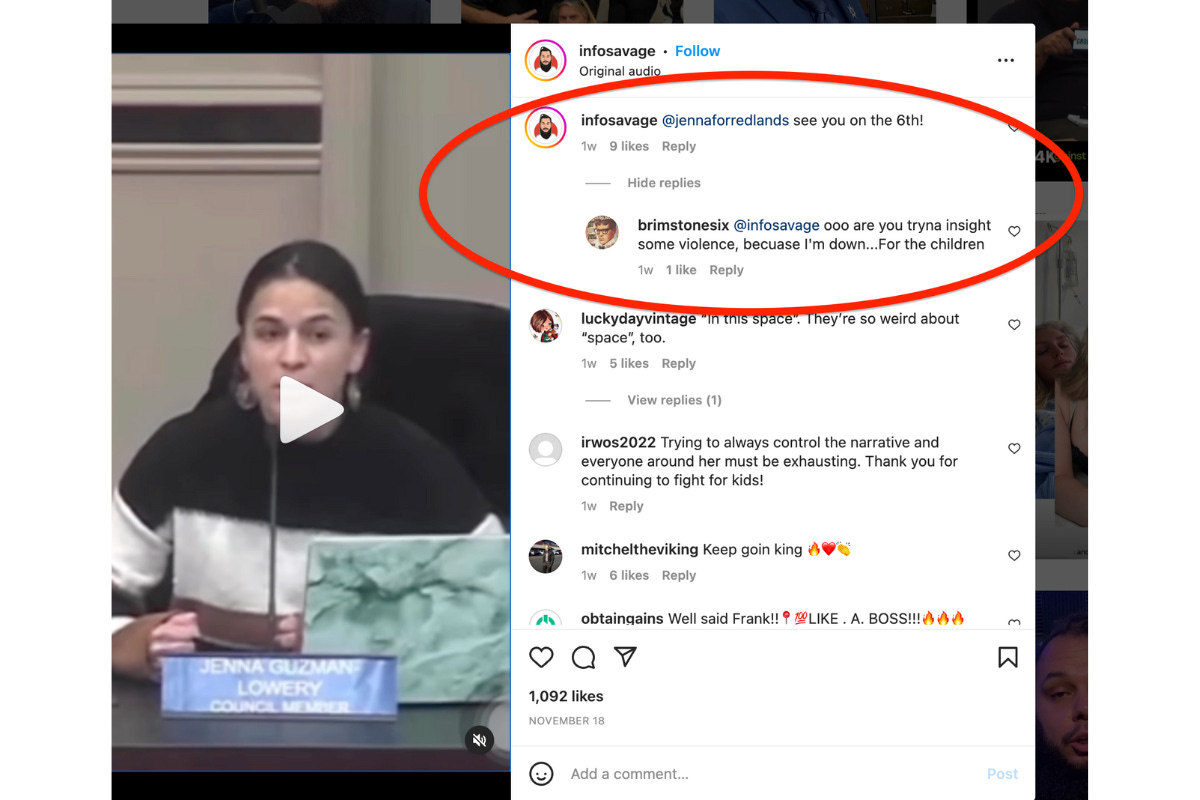 Last month, Rodriquez made a plea to his followers to help raise funds for an airsoft gun. In an Instagram reel, he told followers "these school board meetings are absolutely dangerous" and explained he needed about $200 to purchase a "Byrna" - which is a non-lethal CO2 gun.
His request was well received by followers, one of whom offered to make the purchase, and another suggested he buy a real gun.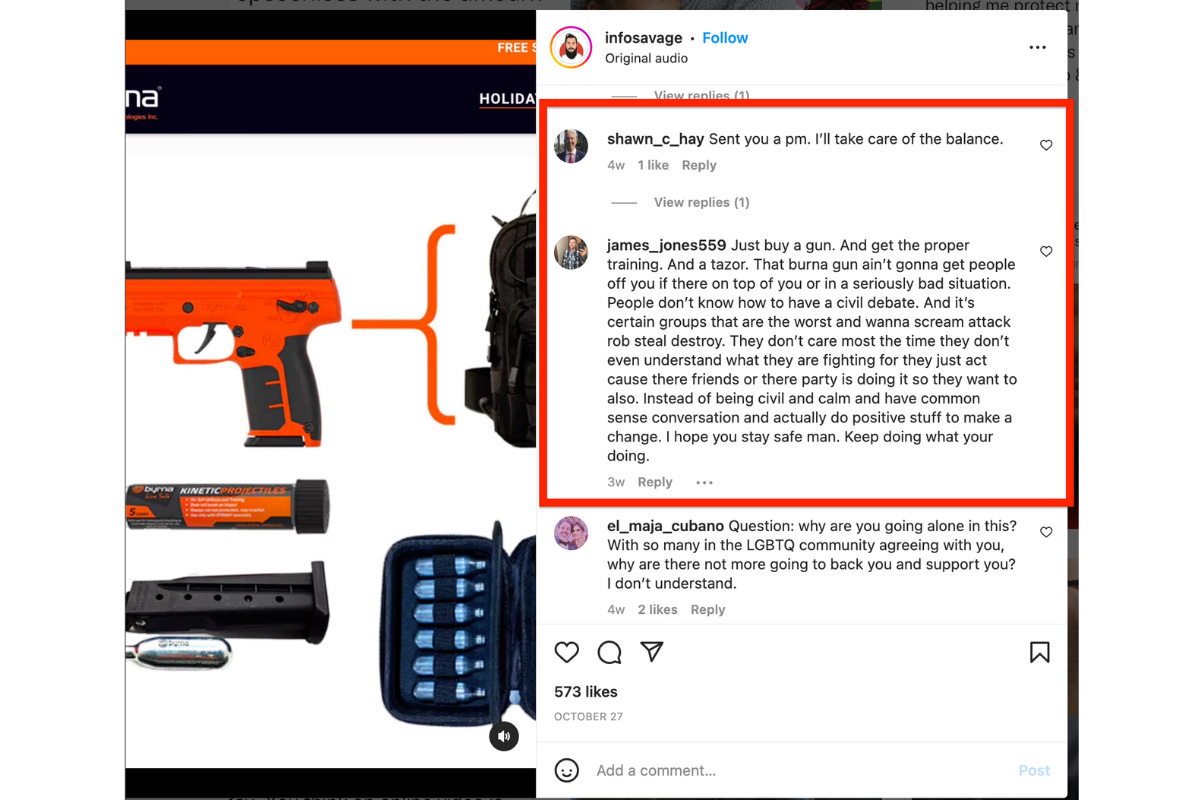 The online harassment following the passing of a proclamation rejecting hate and violence against the transgender community is part of a larger trend being seen around the country as nationally-rooted political groups aim to influence local policies over issues of gender identity, race, and public health.
In this newsletter, we're taking a deeper look at how this group and others work to influence local politics, by spreading misinformation and creating an atmosphere of chaos and intimidation. Plus, a look at what can be done to encourage peaceful engagement and improve civil discourse.
Threats Against Local Leaders on the Rise
There has been a steep rise in incidents of harassment, threats, and violence against local officials, according to a recent survey by the National League of Cities. The report found that 87% of local officials surveyed observed an increase in attacks on public officials in recent years, with 81% of officials reporting first-hand experience of harassment, threats, and violence.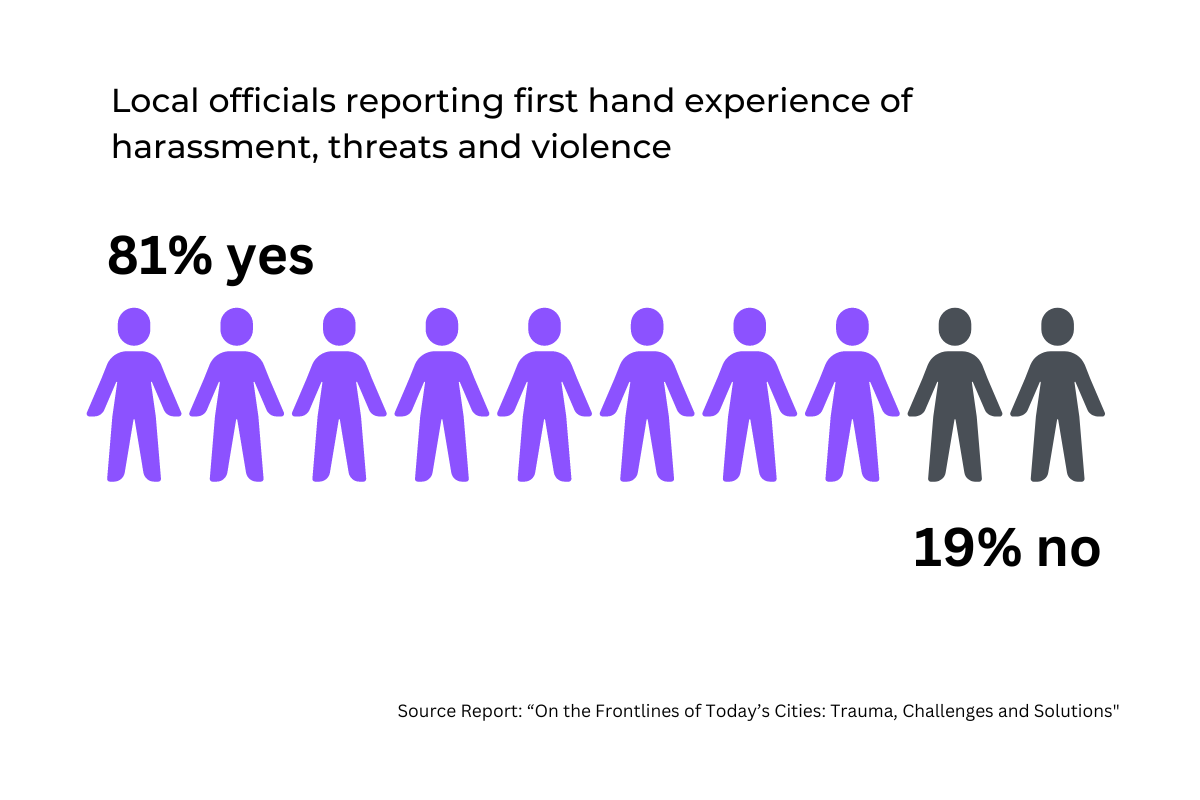 Authors of the report, On The Frontlines of Today Cities: Trauma, Challenges and Solutions, cite a cultural decline in civility, combined with increasing partisan politics as the cause for increasing violence and harassment.
"Personal attacks. Physical assaults. Cyberbullying directed at themselves their children and families – all while having to manage multiple crises in their communities – this is what it means to be a public servant in 2021," said Clarence E. Anthony, NLC CEO and Executive Director
This trend has been underway for decades through polarization, intolerant bigotry, and the rise of disinformation. It has been accelerated by recent demonizing rhetoric and misinformation over education policy, public health, and election issues, combined with easy access to social media platforms.
The report found 79% of incidents occur online through social media.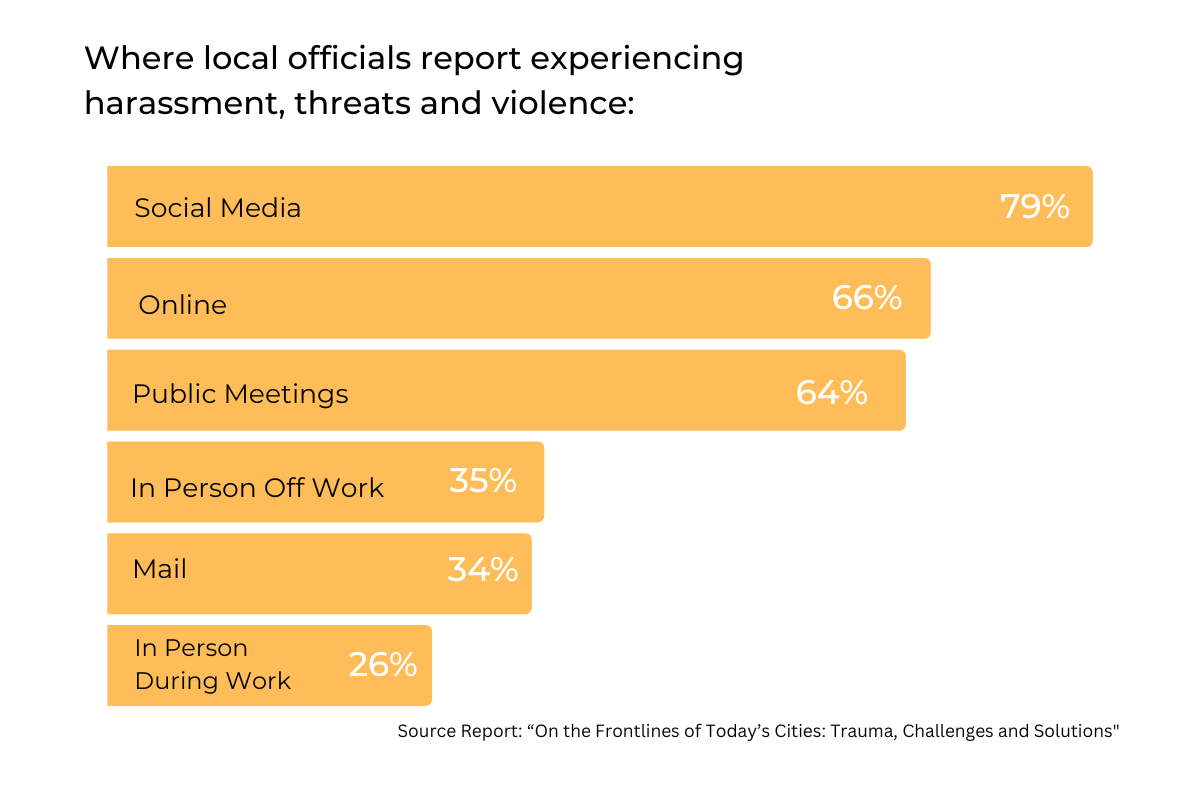 Sometimes these online threats and harassment come into real life - often by people who are not even part of the community.
Rise of Outside Influence
Local governments have a massive influence over the everyday lives of Americans. While local leaders don't always align on every issue, what they all have in common is a stake in the community.
The 2022 midterm elections revealed something different at play. Initially fuelled by frustration over Covid-19 school closures and vaccine and masking policy, national Political Action Committees (PAC) ramped up their efforts in 2022 to influence local policy. From New Jersey to Texas you can read stories about national PACs pouring money into local races, particularly in the fight against curriculum surrounding race and gender identity.
On average, school board candidates usually spend about $1,000 on their campaign.
This year, PACs like the 1776 Project PAC reportedly spent $20,000 - $25,000 per race on school board candidates that ran under a platform label of "parents first" and opposed teaching critical race theory and gender identity.
The 1776 Project PAC claims to have flipped 102 school boards since it started in May 2021, with about half a dozen school boards this past election. The PAC boasts a 60% win rate for candidates they support.
The 1776 Project PAC did not endorse a candidate in the Area 1 Redlands School Board race. However, this year both incumbent Patty Holohan and her opponent Erin Stepien each spent more than $5,000 on their campaigns according to county campaign data. In the end, Holohan (53%) defeated Stepien (31%) by more than 2,000 votes but not without a divisive fight, garnering interest from groups outside of Redlands.
Agitators Come to Redlands
In October, supporters of Stepien filled a school board meeting alongside out-of-town groups including Gays Against Groomer, Lexit, and conservative online media Oreo Express.
Members of these groups - none of which are based in Redlands - spread misinformation about the Redlands Unified School District online prior to the meeting. With more than 200 people present - both inside and outside the building - Redlands School Board President Jim O'Neill went line by line addressing the lies spread about the school district's performance and refuted claims that the district was distributing condoms and funded a drag show.
When it came time for public comment, it was the out-of-town activists that continued to rally on the disinformation and effectively took seats away from residents standing outside. After disrupting the meeting to the point of being kicked out, parents, students, and residents then had their chance to speak to the school board. The majority of the public comments made by local residents came in direct opposition to what the right-wing activists had to say.
What happened in Redlands is part of a national trend. Often partnering with Moms for Liberty, Gays Against Groomers, has shown up at school boards to fight a widely-supported Human Growth and Development curriculum in Wauwatosa, Wisconsin, protest privately funded LGBTQ pride murals at Casto Valley School District outside San Fransisco, and applaud the Miami-Day Florida School Board for rejecting October as LGBTQ+ History Month.
The location changes but the story is the same as these groups attempt to intimidate residents and harass local leaders over issues related to race and gender.
Solutions: Improving local discourse, engagement
As a result of the increase in threats and harassment towards local leaders, the National League of Cities study also found an increasing reluctance of residents and officials to run for local public office.
"I think you're seeing a lot of people choosing not to serve in public office anymore," said Atlanta Mayor Keisha Lance Bottoms in an interview for the report. "People are choosing emotional and mental health and well-being over public service, and that is a dangerous point for us to be in as a country."
The National League of Cities provides a range of solutions to deal with harassment, threats, and violence both before, during, and after public meetings. Recommendations outlined at the end of the report include plans for de-escalation and consideration of security during public meetings. Plus, general recommendations to improve local civil discourse by encouraging local leaders to model civil discourse, engage with the community, institute a code of conduct, and develop social media guidelines to "limit the spread of vitriolic language online and limit the spread of misinformation and disinformation."
Residents can also contribute to more productive public discourse by fact-checking information before sharing, engaging with local officials at public meetings, and maintaining civility. Without the voices of the community standing to support fellow residents and offer solutions to move the community forward, outside voices can fill the void.
Dec 6 City Council Meeting
Local residents are preparing to respond to Rodriguez's video and planned presence at the next City Council meeting Tuesday, Dec. 6. Local parent-led group Safe Redlands Schools is asking residents to attend the meeting to "express solidarity with trans community members and Councilmember Jenna Guzman-Lowery." In a press release, the group calls for a "peaceful counter-presence."
City officials are preparing for larger than usual attendance at next Tuesday night's meeting. According to the City's Public Information Officer Carl Baker, the meeting will be televised on a screen just outside City Hall to accommodate any potential overflow. To ensure everyone's safety there will be one additional Redland Police Officer in the council chambers and the Fire Marshall on hand to enforce capacity rules.
Those who wish to make a public comment are instructed to fill out a speaker slip and will be provided 3 minutes to speak.
"The City Council and executive staff are committed to providing every individual their opportunity to exercise their First Amendment right and provide comment during the meeting," Officer Baker said in an email to Community Forward Redlands.
The meeting will be live-streamed via Zoom. Public comments can also be made virtually. Information to log onto the zoom meeting can be found on the agenda which will be posted here.
The City Council will meet on Tuesday, Dec 6 at City Hall located on 35 Cajon Street. The meeting's open session starts at 6 pm.
Comments