New inclusionary housing program gets approval from City Council
REDLANDS, Calif. - The City of Redlands took a step forward toward expanding access to housing. On Tuesday, June 20, City Council unanimously passed the first of two votes on an Inclusionary Housing Ordinance. The new development rules require developers to build affordable housing units alongside market-rate housing.
Developers would be required to set aside a percentage of rental units for very low to moderate-income households. The affordable units would be built simultaneously and to the same standard as the other units in the ‌‌development.
Under the new program, a two-bedroom apartment could rent between $761 (very-low income) and $1,941 (moderate-income). Developers of for-sale housing units, including townhomes and single-family homes, would be required to build affordable units or pay a fee.
This newsletter examines how the Inclusionary Housing Ordinance will increase access to housing and address the immense need for affordable housing in Redlands. Plus, how the program carefully balances developers' interests to make sure housing production does not stop.
Who would qualify for inclusionary units?
Qualifications for inclusionary housing are based on a household's income relative to the San Bernardino County area median income (AMI).
The 2023 area median income is $94,500/year. Here's the breakdown of income levels:
Very-Low income housing: a household of four making between $30,000 - $46,600 (less than 50% of AMI)
Low-income housing: a household of four making between $46,601 - $74,550 (50-80% AMI)
Moderate-income housing: a household of four making between $74,551 - $113,400 (81-120% of AMI)
Advocates of inclusionary housing point to the benefit of providing housing that allows residents to afford to live in the city they work. Some workers in Redlands earning income levels that could qualify them for inclusionary housing units include teachers, firefighter paramedics, and retail and logistics workers. Here are examples of local median yearly wages based on data from Salary.com:
(Explore more about predominate occupations and median incomes in Redlands here.)
What would inclusionary units sell and rent for?
Several variables go into determining what affordable units will rent and sell for, including developer cost, home values, interest rates, state income limits, and unit size.
The following estimates are based on the 2022 State Income Limits.
Rental unit prices range from an estimated $635/month for a studio apartment for very-low-income households and up to $2,115/month for a 3-bedroom apartment for moderate-income households.

For-sale unit prices range from an estimated $272,000 for a two-bedroom townhome to $337,500 for a single-family five-bedroom unit for moderate-income households.
For-sale affordable housing would only be made available to moderate-income households. According to the policy recommendation from Keyser Marston Associates, Inc, higher-income households are likely to have the discretionary income needed to devote to the ongoing costs associated with home ownership.
Affordable rent prices will be updated annually according to income limits. Sale prices will be updated quarterly based on changes to market conditions, such as interest rates.
How many units are made affordable?
The number of units made available ‌varies on several factors.
For-sale developments, including single-family detached homes, townhomes, and condominiums, would be required to make 5% of units affordable to moderate-income households. Developers may choose to forego this requirement and pay a fee instead. Fees will be put into an affordable housing fund for the City.
Rental property developers have the option to make units available to a combination of very-low, low, and moderate-income households.
The number of rental units available varies by the price of units made available. More moderate-income rentals result in an increase in the total number of affordable units that are created.

An exception was made for projects that submitted applications on or before March 1, 2023, to provide 5% very low-Income rental units.
A handful of other requirements for affordable units include being spread throughout the development, built simultaneously and to the same standards as the market-rate units, and maintaining the affordable price for 55 years.
A step in addressing the dire need for affordable housing
Local inclusionary housing programs are one step in addressing the state-wide housing affordability problem. In recent years, household income has not kept up with the increase in home prices. Since 2010, home prices have risen by 146% in San Bernardino County, while wages have increased by 46%.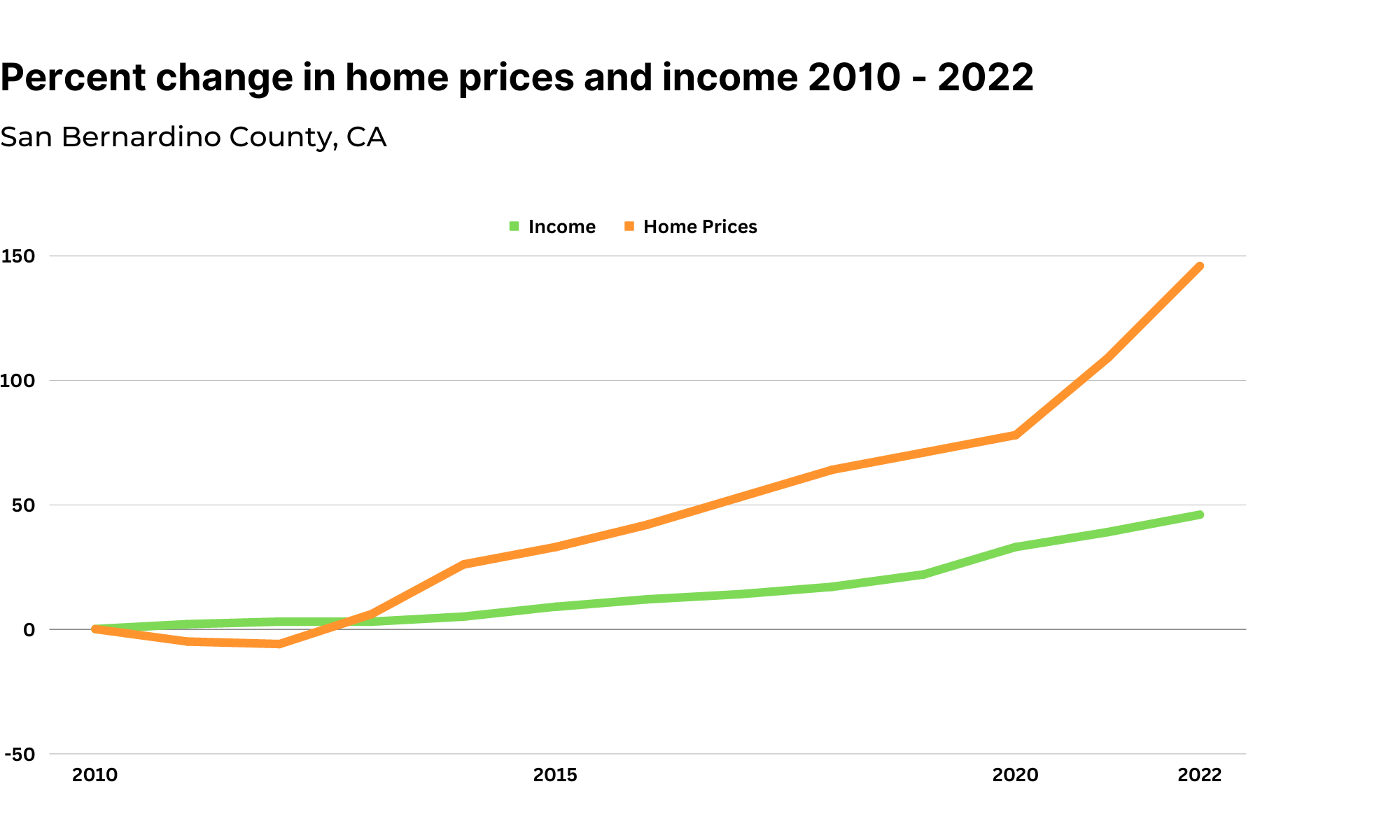 Between 2000 and 2018, median home sales prices in Redlands increased 175%, according to local housing data from SCAG.
Meanwhile, renting households are spending more of their income on housing costs. Across Redlands, half of renter households spend thirty percent or more of their income on housing costs. About a quarter (26.2%) of renting households experience a "severe cost burden" and spend fifty percent or more of their gross income on housing. Unsurprisingly, lower-income families spend a higher share of their income on housing costs.
The need for housing for households making less than 120% of the area median income continues to surpass the demand for higher-income housing in Redlands. According to the regional housing needs assessment, Redlands needs to build 2,123 housing units for very low to moderate-income households.

The current housing atmosphere has increased the appeal of including affordable units within market-rate developments. Around 170 jurisdictions throughout California have adopted a form of inclusionary housing policy. The current Housing Element for Redlands includes consideration of an inclusionary housing policy.
The challenge, however, lies in creating a policy that balances the need for affordable housing with the interests of developers to build.
Balancing the interests of developers
The proposed affordable housing prices are dramatically lower than the current market rate. I spoke with Redlands' Director of Development Services, Brian Desatnik, to better understand how the program was developed to balance the need for affordable housing with the interests of developers.
Desatnik, who has developed affordable housing policies in multiple cities, explained how the required percentage of inclusionary units are determined.
As part of developing the program, Keyser Marston Associates prepared a financial evaluation report. The study examined how an inclusionary housing program could balance meeting housing needs and ensuring property owners receive a reasonable return on investment.
Requiring developers to allocate a percentage of affordable housing units in residential projects impacts project economics through the creation of an "Affordability Gap."
This gap is defined as the difference between the market-rate rent or sales price and the allowable rent or sales price for each affordable unit.
The percentage of affordable units that developers are required to provide considers cost, home values, and interest rates.
As the affordability gap decreases, the number of "inclusionary" housing units a developer can "afford" to provide in the development increases.
Balancing the interests of developers
Developers can take advantage of the state's density bonus law to make up for the difference in market price and affordable housing units.
"Most developers of a rental property when looking at a vacant site and a 9% inclusionary requirement for low-income would just opt to provide 15% very-low income and get a 50% density bonus," said Desatnik.
Because the Density Bonus is a state law, the developer's right to increase density supersedes local development standards. So, if development is entitled to increase density by 50%, sometimes the only way to accommodate the increase in units is to build up.
This is the case for Lux View Apartments on Orange Street. The developer has submitted an application to the City to amend their original plan to include an additional 15% of very-low-income units (50 units). This will increase the 328-unit apartment complex by an additional 164 units.
The developer's request includes 4-story buildings. According to Desatnik, this is the only way to get the 50% density bonus they are entitled to.
In addition to the density bonus, cities are required to provide other incentives, such as reduced setbacks, minimum square footage requirements, and reduced parking requirements.
"When you go through this process, it's a back-and-forth - you work with developers to get the best design. They don't want to come in and not do open space. The law gives us the flexibility to modify standards to help them get the density they are entitled to in exchange for providing affordable housing units," said Desatnik.
An alternative for developers
The Inclusionary Housing Program also offers an alternative for developers. For-sale housing developers and rental developers with fewer than 23 units can choose to pay a fee instead of building affordable housing.
Fees are based on the square footage of the saleable or leasable area.
The recommended fees are $19.80/sq ft for apartment projects, townhomes are $10/sq ft and single-family homes are $8.80/sq ft.
Desatnik told me most developers of for-sale units would likely choose the in-lieu fee over making 5% of units affordable.
"It's a lot more problematic to administer a for-sale affordable program because it's challenging to find qualified buyers," said Desatnik.
Because of the difficulty in finding buyers who can qualify for a loan from a private lender, developers often have to drop the price to sell them.
In-lieu fees would go into an affordable housing fund managed by the City. The City can use this money to build affordable housing projects.
Desatnik said getting an affordable housing fund for the City is pretty essential.
"Most of the housing money out there in state and federal programs require local matches from the city." With a couple of million dollars of local money, Desatnik estimates the City could leverage 10 million of outside funds for affordable housing projects. "That's pretty significant."
The Planning Commission recommended the city create an oversight committee or designate a commission to review and provide recommendations on how funds from the Inclusionary Housing Fund are used.
The City Council will set the in-lieu fee at a later meeting. The fees can be updated periodically.
What's Next
The City Council raised some questions about how ‌rental prices are set and whether for-sale units would be available to equity shares, like community land trusts, to purchase and maintain affordable housing developments.
The City Council is expected to discuss these issues further when considering the ordinance for a second vote in July.
Comments