Update on housing development plans in Live Oak Canyon
In this article, we share the latest update on the future of a high-end housing development planned for Live Oak Canyon. As development pressure increases in the area, conservationists and residents are joining forces to protect Live Oak and San Timoteo Canyons permanently. We will look at potential solutions to make conservation economically possible for landowners.
REDLANDS, Calif. — The Mistretta Canyon Tract, a proposed high-end housing development plan for 40 acres in Live Oak Canyon, will not move forward at this time.
Earlier this year, the Redlands Planning Commission denied the developer's request to extend the Mistretta Canyon Tract plan for another year. The tract plan, which had been renewed multiple times in the past decade, expired with that vote.
The developer immediately submitted an appeal. This week, the landowner decided to withdraw their appeal, according to city staff. That means the Planning Commission's decision stands.
The back story
The proposed development included 24 lots on about 40 acres of land located south of Alta Vista Drive between South Land and Highview Drive.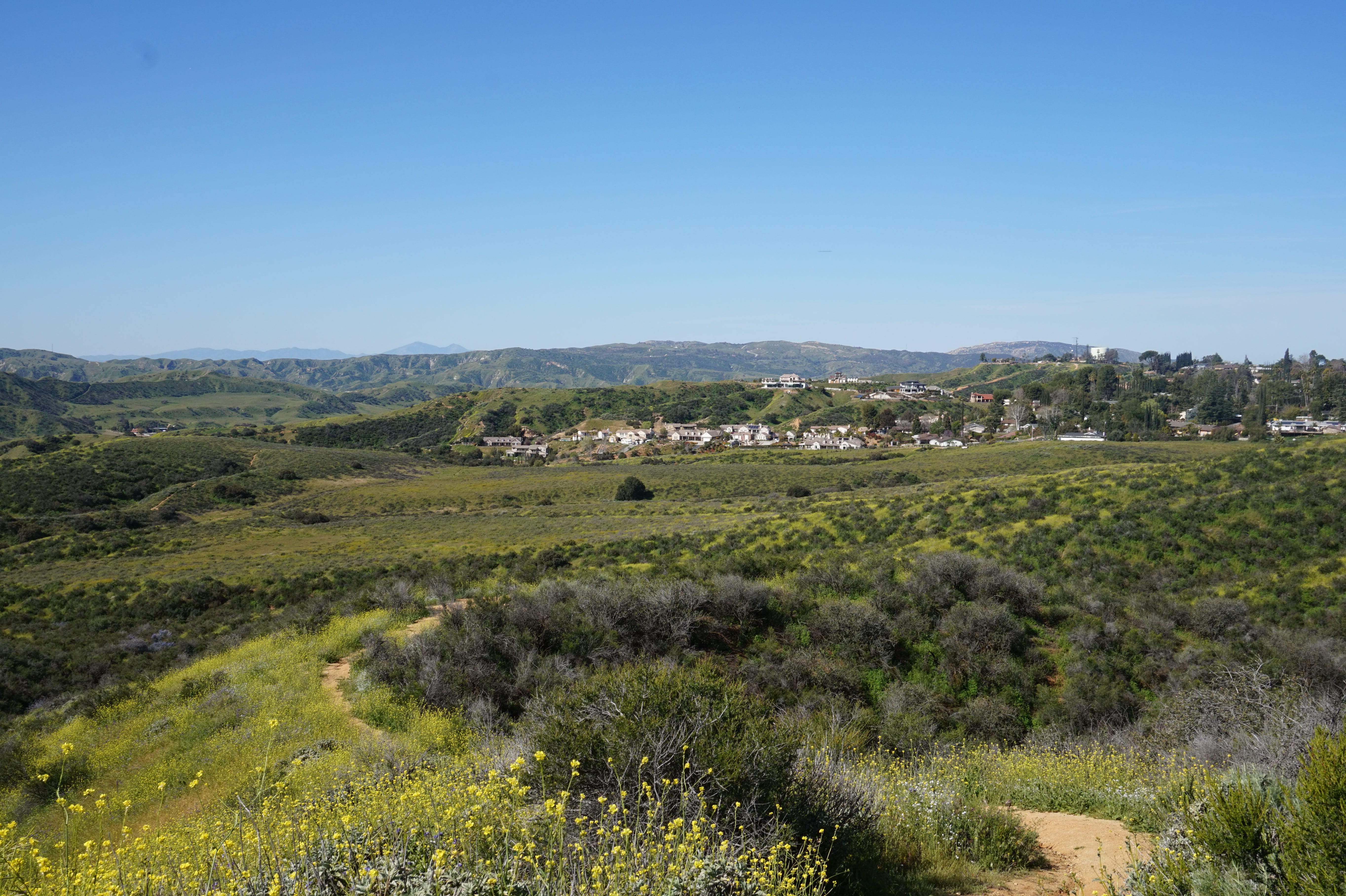 The group Save Live Oak Canyon spearheaded efforts to educate the public about housing development in Live Oak Canyon. Members of the group joined other residents and conservationists in speaking before the Planning Commission in January. They cited concerns over fire risk, erosion, threats to critical wildlife habitats, and protection of tribal cultural resources. They argued that a new Environmental Impact Review (EIR) was necessary due to environmental changes since the original EIR in 2005.
The Planning Commission voted in favor of residents' concerns and did not extend the track plan. You can read more about the details here.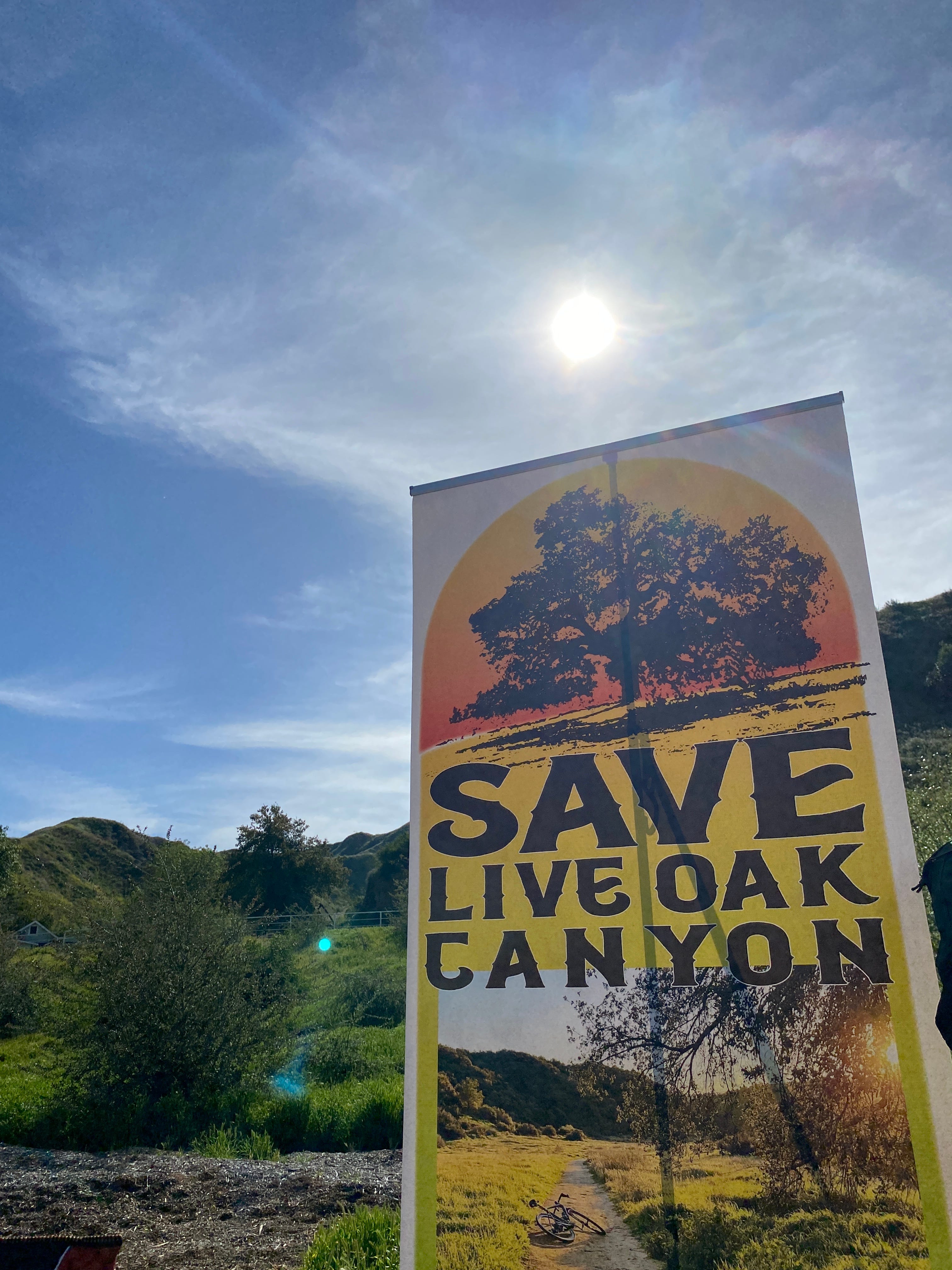 Balancing interest in the beloved Canyons
A look at two canyons and the work being done to preserve the past and protect the future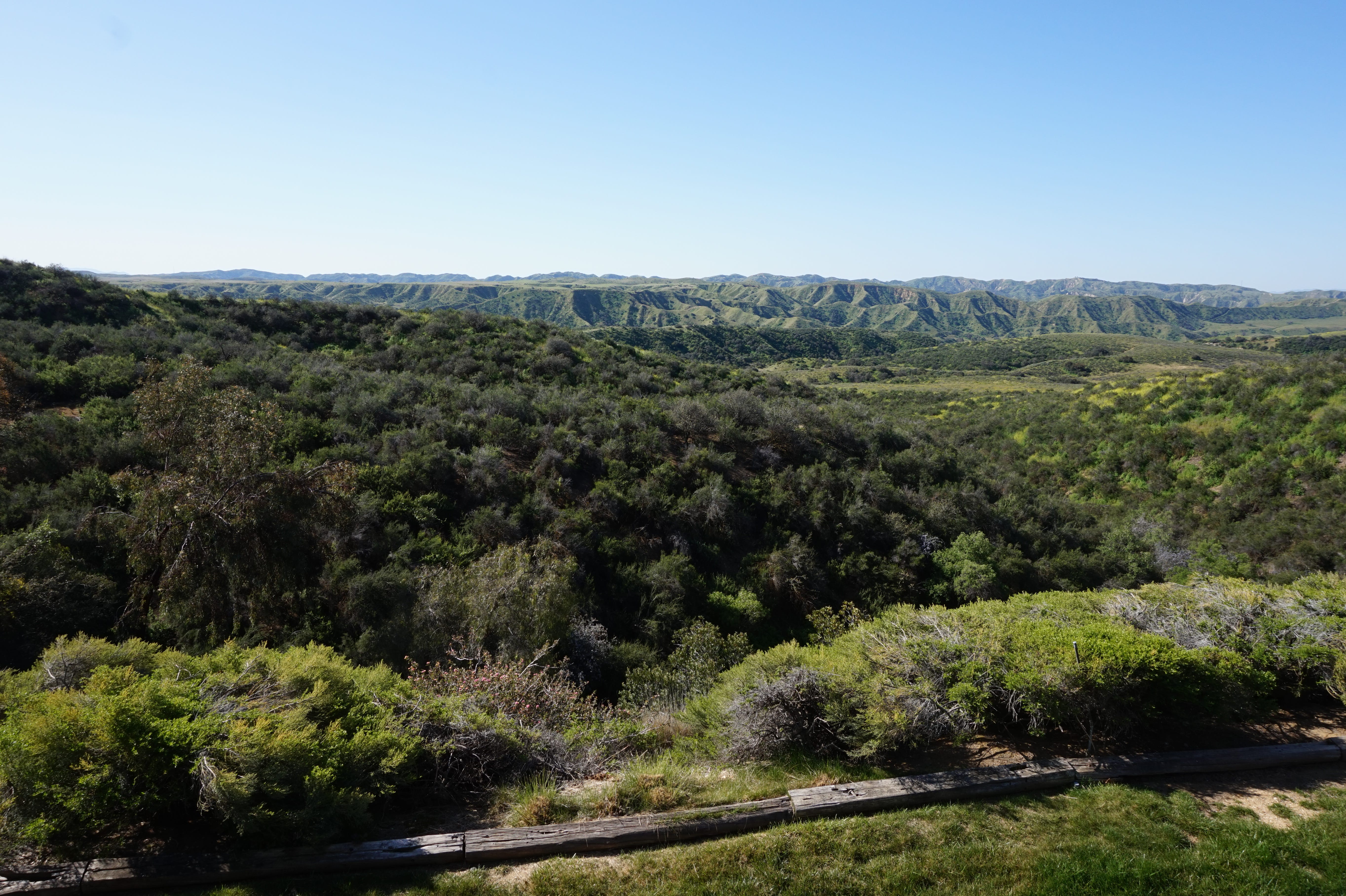 Nestled in the hills of Redlands lie two canyons that are home to a wide range of native plant and animal species. Aside from their natural resources, Live Oak Canyon and San Timoteo Canyon provide open space for recreation and are the destination of numerous historically significant sites.
"Look at that," pointing towards Live Oak Canyon, "how can you not what to save all of that? It's surprising how many people don't know about this area," said Redlands resident Liz Kim.
Kim, a volunteer ambassador with the Redlands Conservancy, spent a recent Saturday morning checking in hikers for a 3-mile loop through Live Oak Canyon. During the week, she and her friend volunteer with the Conservancy pulling weeds at Gateway Ranch.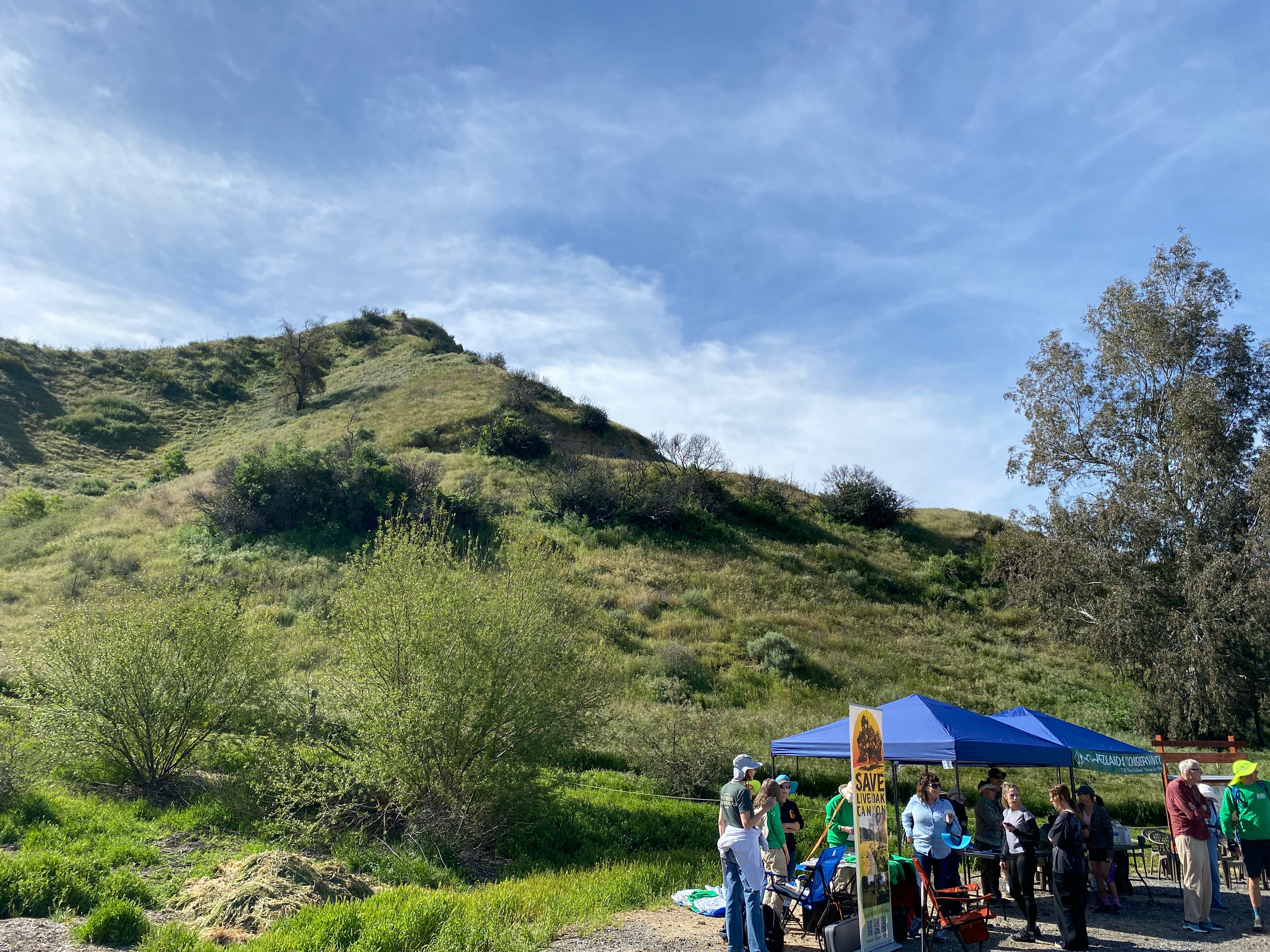 "I do this because land preservation is important. It was so easy for us to over-build in California. If you don't preserve the land, it becomes miles of concrete and subdivisions," Kim said, explaining her reasons for volunteering. "Also, it's so good for your mental health."
Another volunteer I spoke with told me how the canyons are a welcome respite on the weekends after a week of commuting to work in Los Angeles, "It gives me an excuse to get outside…it's fun for me."
The Redlands Conservancy, which organized the Trails at 10 hike, manages more than 340 acres of the Herngt 'Aki' Preserve in Live Oak Canyon and 200 acres in the San Timoteo Nature Sanctuary.
In addition to being a destination for hiking, cycling, and horseback riding, the Canyons have critical habitats for threatened and endangered species. These species are dependent on the canyons' unique ecosystems. They are also wildlife corridors for daily movement and seasonal migration.
Last fall, there were two documented sightings of a mountain lion in the area. The Redlands Conservancy warned residents through social media posts.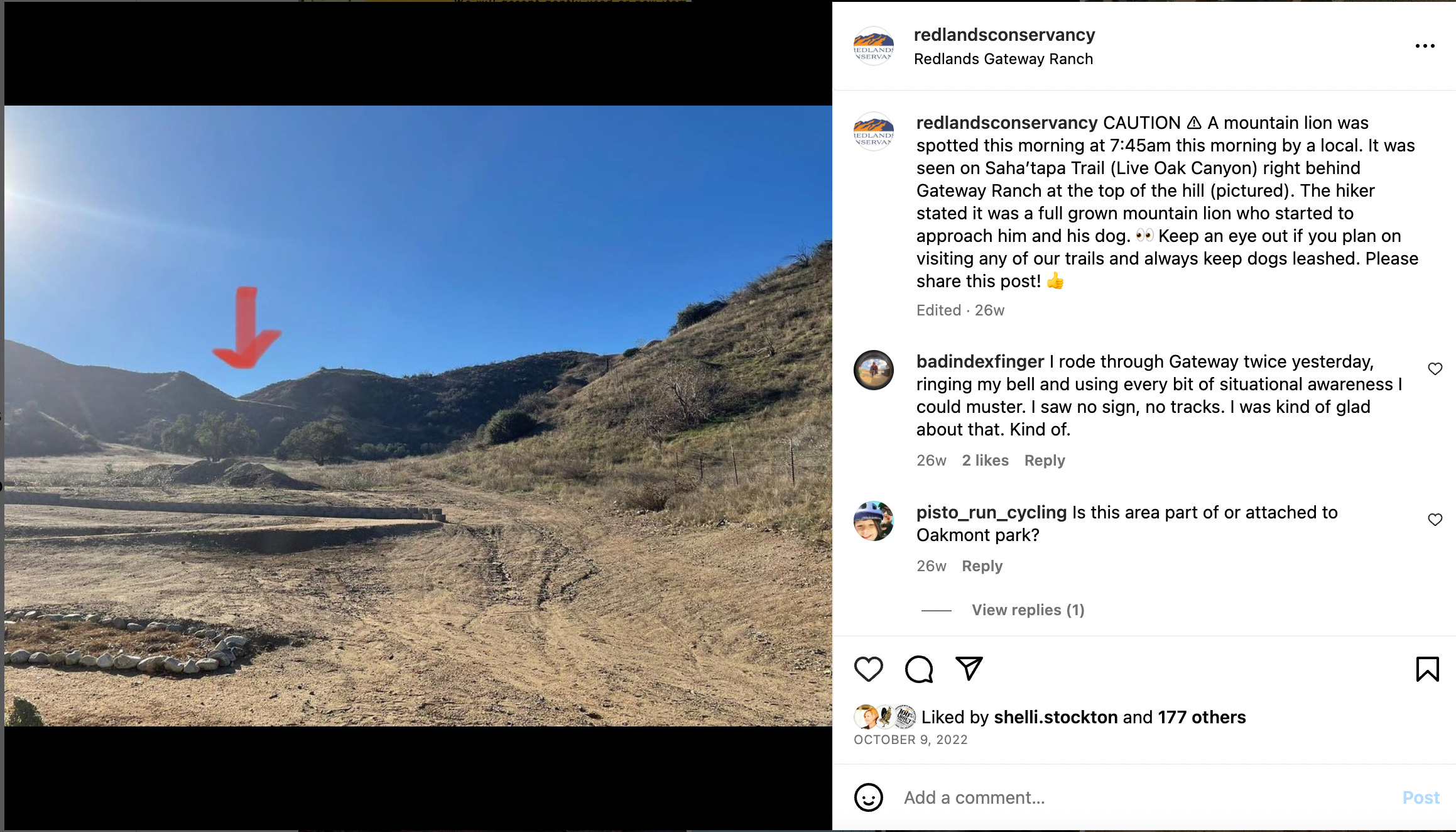 One resident I spoke to, who prefers not to be named, said they worry that any future development in this wildlife corridor could negatively impact the environment and local biodiversity.
They explained new housing development in the area could increase fire risk by destroying natural vegetation that acts as fuel breaks around existing homes. They also worry it could also lead to increased erosion in the canyon and more traffic on narrow roads in their neighborhood.
The land is also known to have great historical significance. San Timoteo Cayon was originally home to and travel corridor for regional indigenous peoples. The preserve in Live Oak Cayon was named Herngt 'Aki' Preserve, or "Rattlesnake House," in 2017 by members of the San Manuel Band of Mission Indians. Native Americans used the land to gather acorns and as a path from the mountains to the desert.
There is some preserved land in the area, but much of it is still open space with a variety of zoning.
This map shows the zoning in the hills of South Redlands is a mix of Rural Residential yellow (1-acre min lots), A-1 Agriculture light green (5-acre min lots), and Specific Plans in blue.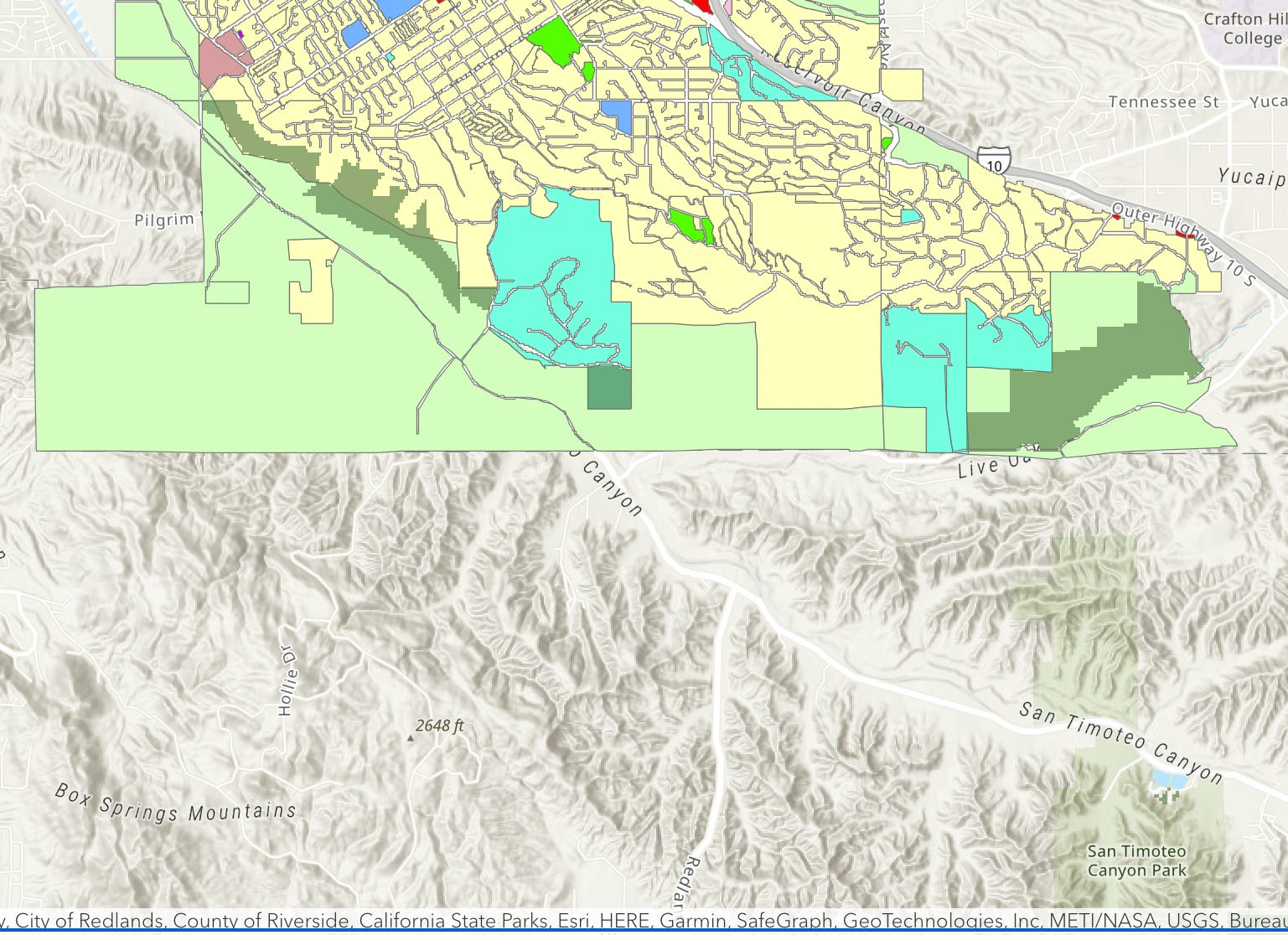 New conservancy focuses on two canyons
Protecting land in areas of high demand for housing is a challenge. Balancing a property owner's investment with the public's interest in the land for conservation is a complex process that requires collaboration between many different parties.
Two Canyons Conservancy is helping to bridge this gap. The new conservancy aims to continue efforts to protect Live Oak and San Timoteo Canyons by establishing a tightly woven series of recreational, historical, environmental, and cultural destinations through Two Cayons Parklands.
But, as Two Canyons Conservancy board member Sherli Leonard points out: "In order to do this, we have to make it economically viable for property owners."
Acquiring land through a purchase for permanent conservation or providing property owners with alternatives to selling their land for development can do this.
One example is efforts to acquire property at the old El Casco Resort in San Timoteo Canyon. Leonard said the Two Canyons Conservancy plans to restore its lakes and cabins for a recreational area for fishers, boaters, and campers.
Supporting local farms and ranches in the two canyons will also help maintain the land for open space. "Farmers and ranchers in the area need more consumers so they can stay economically viable," said Leonard.
Learn More
Learn more about the Two Canyons Conservancy on On April 16, at the Redlands Forum: Right in Our Own Backyard: The Unique and Precious Two Canyons.
Hear from Redlands resident Pete Dangermond who leads the new nonprofit, as well as Dr. H. Vincent Moses, a retired museum director and Southern California history scholar; and Kathy Behrens, president of Redlands Conservancy and a Two Canyons Conservancy board member.
Admission is at no cost. Attendees may choose to participate either in person at the Esri campus in Redlands or online.
Thank you for reading Community Forward Redlands. This post is public so feel free to share it.
Comments