Update 04/04/23: After hearing public comments from residents and policy recommendations from the non-profit Inland Coalition for Immigrant Justice, the City Council decided to table the ordinance until May. Mayor Pro Tem Paul Barich and Council member Jenna Guzman-Lowery agreed to meet to discuss possible changes to the ordinance. The vote was 3-1, with Mayor Tejeda dissenting. Council member Denise Davis was absent. Read details of the current ordinance below.
---
Update 03/21/23: City Council votes in favor of new regulations on sidewalk vending in Redlands. Mayor Eddie Tejeda, Mayor Pro Tem Paul Barich, and Council member Mario Saucedo voted to support the new rules. Council member Denise Davis asked that the Council table the measure and seek additional input from vendors and their advocates. After her colleagues denied the request, Davis voted against the measure. Council member Jenna Guzman-Lowery was absent from the vote. The ordinance will go before City Council for a second vote.
---
REDLANDS, CA – Sidewalk vendors selling fruit, tamales, and flowers have used Redlands sidewalks and parks to sell their goods for years. A new ordinance before City Council aims to impose new regulations on where and what these vendors can sell.
The ordinance includes a list of more than 20 regulations, drafted over concerns of public safety and compliance with ADA sidewalk standards.
The rules would restrict certain sidewalk vendors from operating in many parts of the City and impose new requirements for obtaining a business license and permits.
Tuesday night will not be the first time the City Council has considered an ordinance regulating sidewalk vending. A similar ordinance (No. 2922) was tabled in 2021 after public opposition.
This newsletter looks at what led to the measure's revival and what it could mean for sidewalk vendors in Redlands.
What led to the ordinance
State law decriminalized sidewalk vending in 2019. The Safe Sidewalk Vending Act provided a framework to allow counties and cities to set regulations, especially when the community's health and safety are a concern.
In 2021, Redlands city staff drafted an ordinance to limit sidewalk vending to specified areas. It also established health and safety standards and guidelines for vendors to follow to encourage compliance with sidewalk accessibility requirements.
A new version of Ordinance 2922 is going before City Council this week with additional rules and a business license requirement. Concerns cited in the ordinance include traffic, pedestrian safety, ADA accessibility, unsanitary food preparation and disposal, risks to children, and consumer protection. The Ordinance also states that local vendors have violated laws by disposing of food waste in the City's storm drains, creating "hazardous environmental contaminants." As a result, the City notes that additional regulations are necessary.
The proposed rules
The term "sidewalk vendor" refers to individuals who operate a business selling goods or food from things like a pushcart, stand, or display on a public sidewalk or pedestrian path. This includes those who deal directly from their person.
There are two types of sidewalk vendors:
roaming vendors who move around and only stop to make a sale, and
stationary vendors who sell from a fixed location on the sidewalk.
Under the proposed ordinance, all sidewalk vendors would be required to have a valid business license and provide proof of general liability insurance. Vendors selling food would be required to have a county health permit.
Under the proposed rules, stationary vendors would be prohibited from operating in residential areas but could work in non-residential areas if they meet certain conditions. These conditions include maintaining a path on the sidewalk (min 36 inches), keeping the site clean, not blocking entrances, and not vending near certain fixtures like fire hydrants, street lights, edges of tree wells, or parking meters.
Additionally, no vending is allowed within 500 feet of certain events, like Certified Farmers Markets, or 30 feet of other vendors or locations like schools, bus stops, or train stations. Finally, vendors are not permitted on "Business Area Sidewalks," which includes most of downtown Redlands and Orange Street to Lugonia.
This map shows in dark and light red where the new ordinance would prohibit stationary sidewalk vendors based on the city's zoning data.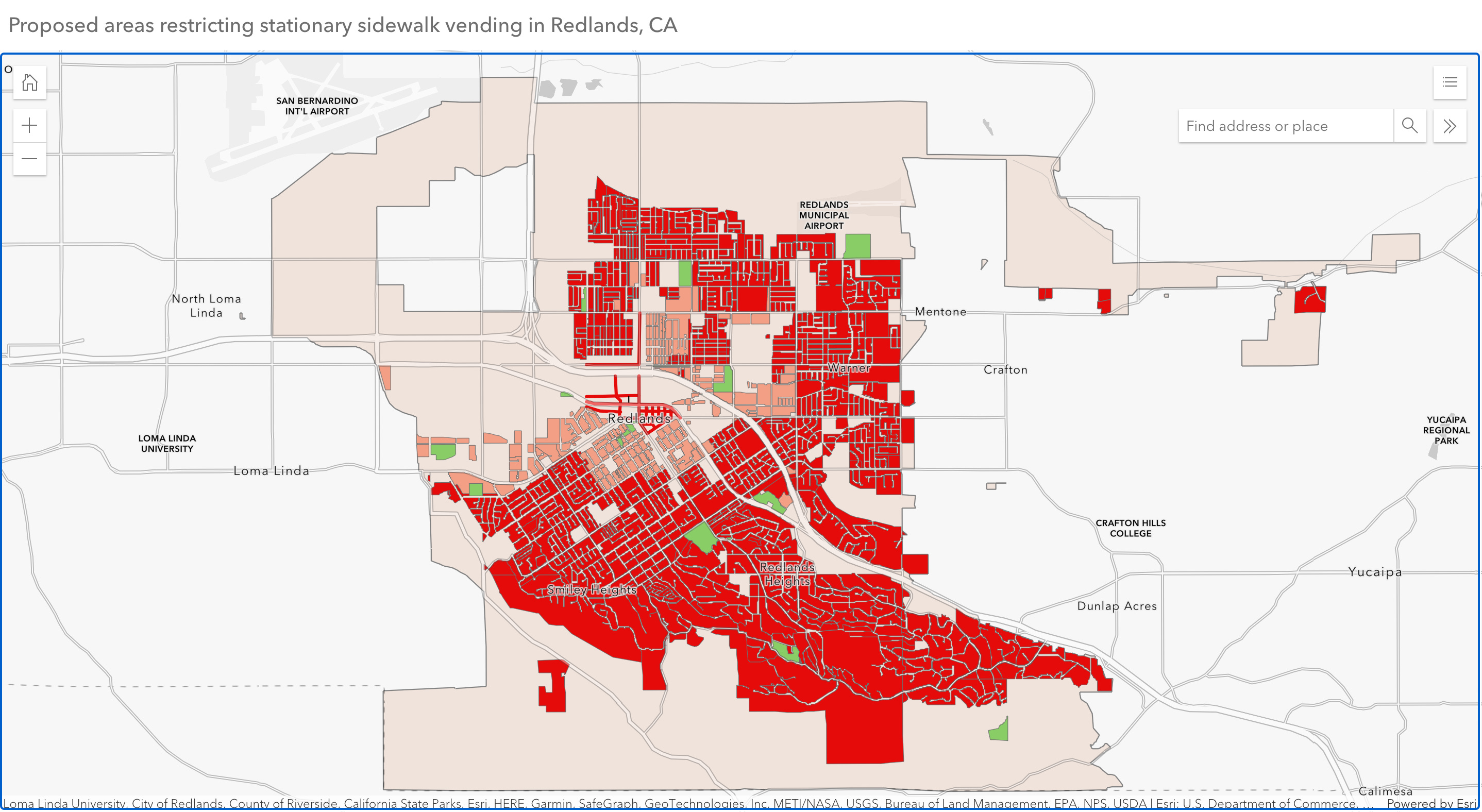 Roaming street vendors would face similar regulations but would be allowed in residential areas between 10:00am and 6:00pm
In addition to limits on location, the new ordinance could also limit what stationary vendors can set up and sell. Vendors are limited to one table and two chairs and cannot use water, electrical, or gas lines during vending operations. Open burning or open flame devices are not permitted.
Vending in Parks
There are specific rules about operating in City parks. The ordinance would prohibit any vendor from operating in City parks with a concession stand selling similar merchandise or food. However, sidewalk vendors could still operate in parks if they meet specific requirements. Some of these rules include leaving at least a 36-inch path on public sidewalks, avoiding using open flames, and maintaining a sanitary vending area. The ordinance states, vendors should not interfere with the "park's natural character or the public's use and enjoyment of natural resources," and must stop one hour before park closure.
Penalties
Vendors who violate the law would face administrative fines. The first violation carries a penalty of up to $100; a second violation could cost up to $200. Beyond that, a vendor could pay up to $500 for each additional violation within a year. The City may allow alternatives for those who cannot pay, including community service, waiving the penalty, or offering an alternative. Sidewalk vendors without a valid food permit may have their equipment confiscated and food discarded.
The ordinance does not provide information on the cost of the permits, nor does it include plans to educate street vendors about obtaining permits.
History of the ordinance
In April 2021, a similar ordinance initially passed the City Council with a 3-2 vote. In the following weeks, residents expressed their disapproval of the law, saying that it would hamper vendors' entrepreneurial spirit and livelihoods. Many of whom come from low-income communities of color.
Residents also raised concerns about the lack of available statistics on health risks, accidents, and complaints. Others called for more outreach and education for vendors.
Following considerable public opposition, the City Council tabled the ordinance at the following meeting. It never passed. (Local media, who initially reported that Ordinance 2922 passed, did not follow up with the news that it ultimately failed.)
Now the same rules, with a few additional requirements, head before City Council this week.
City Council will consider the ordinance at their next regular meeting on Monday, March 21, 2023. You can read the full agenda here.
Comments