Hello! Welcome to the first edition of the Community Forward Redlands newsletter. This is part 1 of 3 in a series on housing in Redlands. This week is all about the housing market and more specifically rentals. First, the story of an out-of-town developer who started ordering renovation evictions at an apartment complex in Redlands. Read how City Council responded. Then, explore data on how the trend of apartment renovations could impact the Redlands rental market. Plus, why some Californians are going to see a hike in rental prices next month. You might have guessed it, blame inflation.
NEWS FROM CITY HALL

Residents report unjust "renoviction" and the City Council takes action.
The Redlands City Council is considering a new renter protection ordinance after residents from one apartment complex in Redlands say they were given unlawful eviction notices.
A father and his son, a young family who has been living in their apartment since 2013, and others came before the City Council in July asking for help to stay in their homes. The residents from Las Casitas Apartments shared that their apartment complex was not cleaned and poorly maintained. Residents went on to explain how the property owner began putting eviction notices on units this summer citing the need for renovations. Mr. Justin Weekley, a Parks and Recreation Commissioner, who spoke on behalf of his father and other residents from Las Casitas, explained that residents were given 60 days to vacate. Weekley claimed the developer had not pulled proper permits and the planned renovations were cosmetic, not "substantial," as required by state law. California law allows landlords to evict tenants for property demolition or to "substantially remodel" a unit. To be considered substantial, renovations must be so extensive (think plumbing, electrical, structural) that a permit is required, the work would take more then 30 days and it would be unsafe for the tenant to remain in the residence. Weekley says the property owner offered the residents a unit after the renovations were finished at the new rental price of $2,300. A more than 60% increase from current rental prices.
According to Vizzda records, the property owner, Doug Wetton Investments, purchased three apartment complexes in Redlands between May 31 and June 1, 2022. The properties include Las Casitas Apartments (132 New York St.), Brookside Patio (711 Brookside Ave) and 16 San Mateo Street. A quick search of apartment listings for Las Casitas shows the current rental price of $2,350 for a 960 sq ft apartment. I reached out to the property owner for a comment but have not heard back at this time.
City Council's Response
During the July 19th council meeting, city staff confirmed that no relevant permits have been pulled for either Las Casitas or Brookside Patio apartment complexes. The City Council concluded that there was no evidence of a "substantial" remodel. Expressing a genuine desire to help the residents remain in their homes, city council members asked what could be done. City Attorney Yvette Abich Garcia explained how the state law stops short in laying out "appropriate actions" by the landlord and that an "urgency ordinance" could help these residents keep their homes. It would also protect other renters facing unlawful renovation evictions.
City Attorney Garcia explained how the cities of Ventura, Los Angeles and Duarte have written city ordinances to fill in the gaps in the state law around renovation evictions. These ordinances require the property owner to do things like:
pull permits before issuing evictions
submit a list of tenants who will be evicted
include a copy of permits and detail the scope of work in the eviction notice
These ordinances put the responsibility on the property owner to explain why the renovations cannot be accomplished with the tenant remaining on the property.
What's Next?
The residents at Las Casitas are still within the 60-day eviction notice. If the urgency ordinance is passed before the end of August, the eviction process would reset. If the property owner then chooses to move forward with the renovation evictions they would be required to follow the rules of the new ordinance.
City Council will hold a special meeting on Aug 2 to vote on the urgency ordinance.
A 4 /5 vote is required.
---
Tenant Resources
Resources for tenants to know their legal rights can be found here: https://www.hud.gov/groups/tenants
Tenants in need of legal representation can go here: www.LawHelpCA.org
---
REDLANDS AT LARGE

The Impact on Rent Prices in Redlands
"This Should Concern Us All"
At the July 19th council meeting Council Member Jenna Guzman-Lowery brought the concern of whether renovation evictions will feed into our current housing crisis:
"…What we're dancing around when we're talking about these issues is connected to [the] housing crisis that we have, and the fact that an individual can come in and purchase properties in our town, rendering some of our own community members potentially homeless, should concern all of us."
How Rent Prices Can Increase in California
State law passed in 2019 (AB 1482) puts a cap of 5% plus regional inflation on annual rent increases, up to 10%. This applies to properties 15 years or older. But if a landlord orders evictions in connection with substantial renovations they are free to set the rent prices however they choose.
So can Redlands residents afford a rental price hike?
Here's a look at rental prices over the last 8 years in Redlands. In the last year alone, the median rental price of units has gone up 55%, according to Zumper research. The median price for a 1 bedroom apartment is now $2,160. That means half of the apartments rent for more and half rent for less. The chart below shows the rise in the median rental price in Redlands from November 2014 - July 2022.*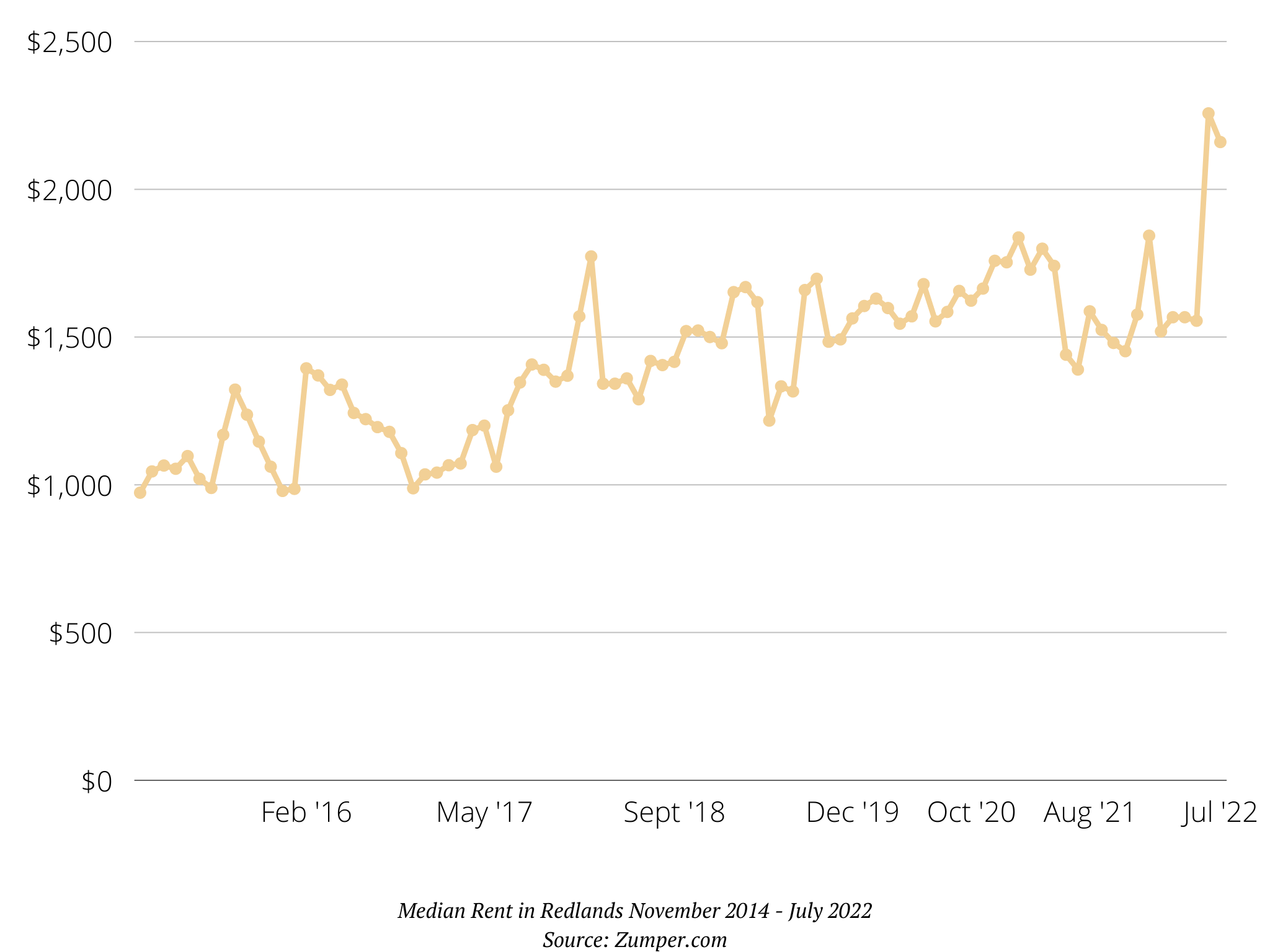 Rental Prices Effect 1/3 of Households
About 35% of housing units in Redlands are rentals, while 64% are owner-occupied. The dashboard below gives a more detailed look at the breakdown of rented or owned units. You can also see the median (half above and half below) rental costs in each neighborhood. In the census tract where Las Casitas is located more than 51% of households there spend more than 30% of household income on housing costs.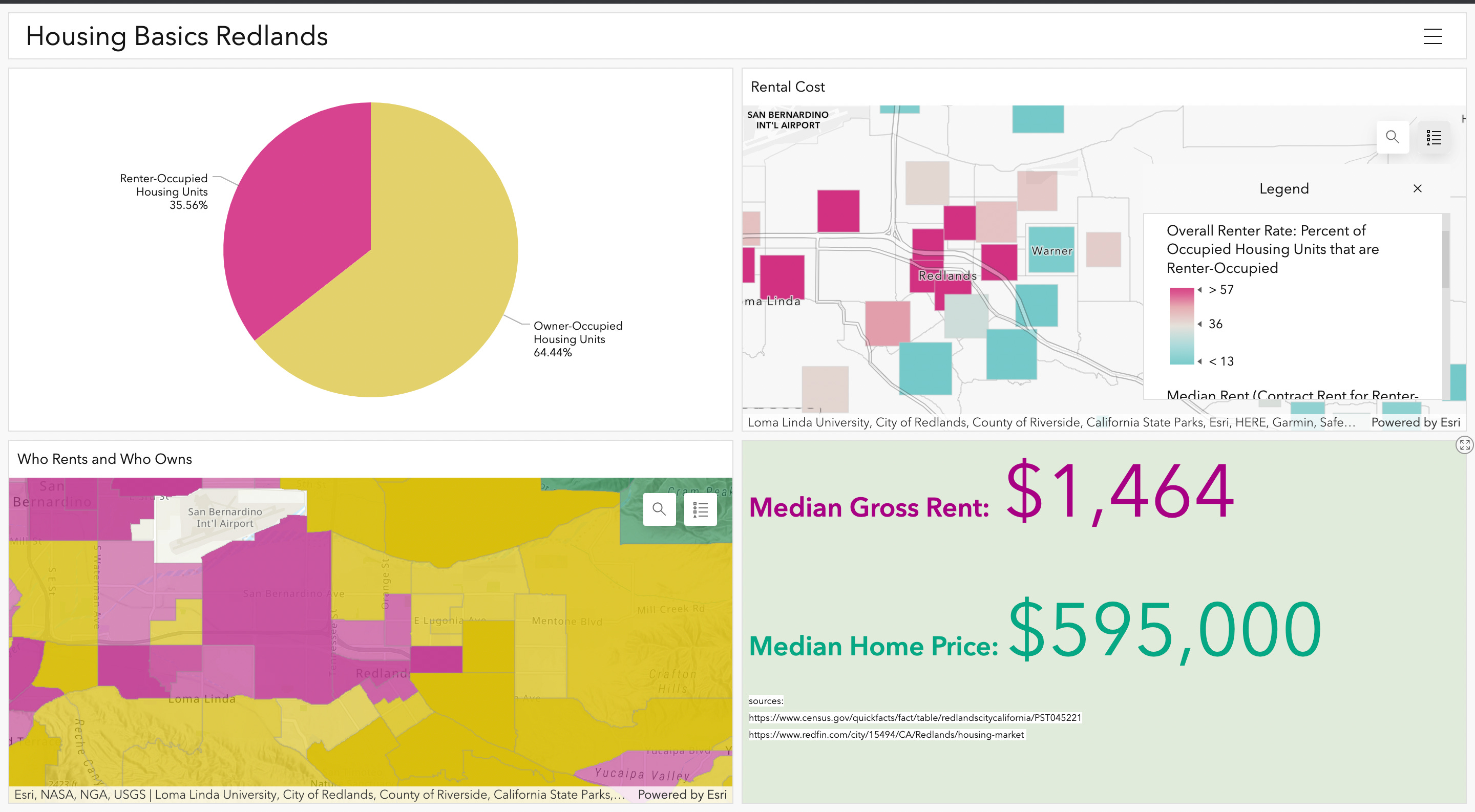 Follow this link to access the interactive dashboard: communityforwardredlands.com/housingbasics
---
CALIFORNIA NEWS
Renters in the Golden State
Anticipate rising rent prices: Come Aug 1 tenants across all regions of California could see rent increase by as much as 10%. Because of inflation landlords are able to reach the 10% maximum annual increase imposed by state law passed a few years ago. The law was passed in 2019 to protect tenants from exorbitant rent hikes.
This Tenant Protection Storymap shows which California cities have ordinances for more rent control and other renter protections.
1.5 million California households are behind on rent according to the US Census Bureau survey released last week.
AND FINALLY…
What do you think?
---
Well, there it is. The first Community Forward Redlands newsletter. Subscribe now and don't miss next week's deep dive into the news and policy impacting our community.
*Story updated on 8/1/22 for clarity
Comments