This is Part 3 of 3 on a series examining resilience, sustainability and environmental justice in addressing climate change in Redlands. Last week's newsletter provided an overview of the City's Climate Action Plan. Part 1 took a deeper look at our city's canopy cover, its impact on heat and the need for a more equitable distribution of trees.
REDLANDS — The damage being done by each ton of carbon dioxide coming out of vehicles, homes, and factories, is worse than previously thought. That's according to a study released last week in the journal Nature. The social, economic, and health impact of carbon pollution is measured by what's called the Social Cost of Carbon. Governments use this monetary value to understand the damage carbon poses to society. Currently, the United State government prices the damage done by one ton of carbon dioxide emitted at $51. However, researchers now say that the price should be 3.6 times higher, at $187 per ton.
This also means measures to reduce greenhouse gas emissions are more meaningful than previously thought, the study points out.
In last week's newsletter, we dove into the Redlands Climate Action Plan (CAP) and how state and local policies are projected to reduce Redlands' 2015 emissions 17% by 2035.  The policies focus mainly on increasing density through transit-oriented developments and the promotion of biking, walking, and limited parking. In addition to these policies, a secondary set of measures are outlined in the CAP. These policies center around energy efficiency and the move toward renewable energy sources. If implemented, these policies could make a significant impact on emissions in Redlands.
The CAP has not been updated since it was adopted nearly 5 years ago. It can be updated as "changes in technology, federal and state programs, or other circumstances warrant," according to the document.
Last month, the nation's largest ever investment to address the growing climate crisis was enacted through the signing of the Inflation Reduction Act (IRA) on Aug 16. The IRA includes $369 billion in climate investments and puts the US on the path to reducing carbon emissions by 40% by 2030.
The IRA also provides an opportunity for state and local governments, like Redlands, to reevaluate their climate action plans.
This week's newsletter explores the path to net zero carbon and how the Inflation Reduction Act can support local policy to further reduce emissions. We'll also examine the potential impact of improving energy efficiency, neighborhood connectivity, and environmental equity in Redlands.
Progress on the CAP
Since 2017, the City has been working to implement the policies within the Climate Action Plan.
Initiatives the City has already undertaken include the conversion of a portion of the City's fleet to electric vehicles, the use of natural gas for solid waste trucks, and the process to convert the City's street lights to LED, according to Public Information Officer, Carl Baker. In addition, the City anticipates a reduction in energy use per capita due to updated energy-efficient building codes and progress on transit-oriented developments.
A report and possible update to the CAP is expected next year, according to Baker.
Additional policies that are recommended in Section 4 of the CAP can be implemented to further reduce emissions. These include:
Residential, Commercial and Industrial Solar
Residential, Commercial and Industrial Efficiency Retrofits
Commercial and Industrial Facility Commissioning
Efficient Lighting Standards for both Residential and Commercial
Increased Zero Emission Vehicle Travel
Now here's a look at how the funding opportunities within the Inflation Reduction Act can accelerate the implementation of additional climate action policies in Redlands.
Residential Energy Efficiency
One of the most substantial parts of the Inflation Reduction Act is the range of tax credits and rebates aimed to encourage individuals and businesses to take steps to reduce their own carbon footprint.
One of the largest single investments within the IRA is the $27 billion towards the Greenhouse Gas Reduction Fund (Sec. 60103), with at least 60% of those funds for disadvantaged communities.
Improving Home Energy Efficiency
Here's a look at the tax credits and rebates offered by the IRA to help consumers make their homes more energy efficient.
HOMES rebate program gives consumers money for energy-efficient retrofits such as insulation or HVAC installation. The full rebate - up to $8,000 -  is available to households making less than 80% of the median area income, while those between 80-150% of the area median income receive a rebate of up to $4,000. The rebate amount also depends on the amount of energy cut. (SEC. 50121)
The high-efficiency electric home rebate program provides up to $14,000 in rebates for energy-efficient home appliances, such as heat pump water heaters, electric stoves, heat pump clothes dryers, and electrical system upgrades. Again, households making less than 80% of the median area income receive the full rebate, while households between 80-150% of the median area income receive 50% of the rebate. This rebate is available at the time of purchase, making energy-efficient appliances available to those who can't afford to wait for reimbursement. (SEC. 50122)
30% tax credit for home upgrades such as windows, exterior doors, skylights, and certain heat pumps and water heaters up to $2,000 a year depending on what is being installed. (SEC. 13301). Unlike rebates, tax credits are only useful to those who owe taxes. Depending on their annual taxes, some residents may not be able to apply for credit. However, CNBC reports that the tax credit can be carried over to the next year, and rebates and taxes can be combined to receive maximum savings.
The rebate programs are expected to be up and running as early as next year. Both programs are administered through state energy offices.
Old Homes, New Tech
Energy efficiency home rebates and tax credits will only reduce emissions as much as residents choose to utilize them and make the change to more renewable energy. Local governments have an opportunity to educate and promote the benefits once the programs are available in their communities. Using data and maps to identify neighborhoods that would benefit most from rebates and energy retrofits can help focus outreach.
Full rebates for energy-efficient renovations and home appliances go to households making 80% or less than the area median income. The area median income in Redlands is $87,400. Households making less than $70,000 would qualify for the full rebate. Households making less than $130,000 qualify for a partial rebate.
The map below shows neighborhoods by census tract where homes older than 1949 are located and eligible for full or partial energy efficiency home retrofitting rebates through the Inflation Reduction Act. Darker shades of orange indicate a higher number of homes built before 1949. (Map and data updated on 10/18/22)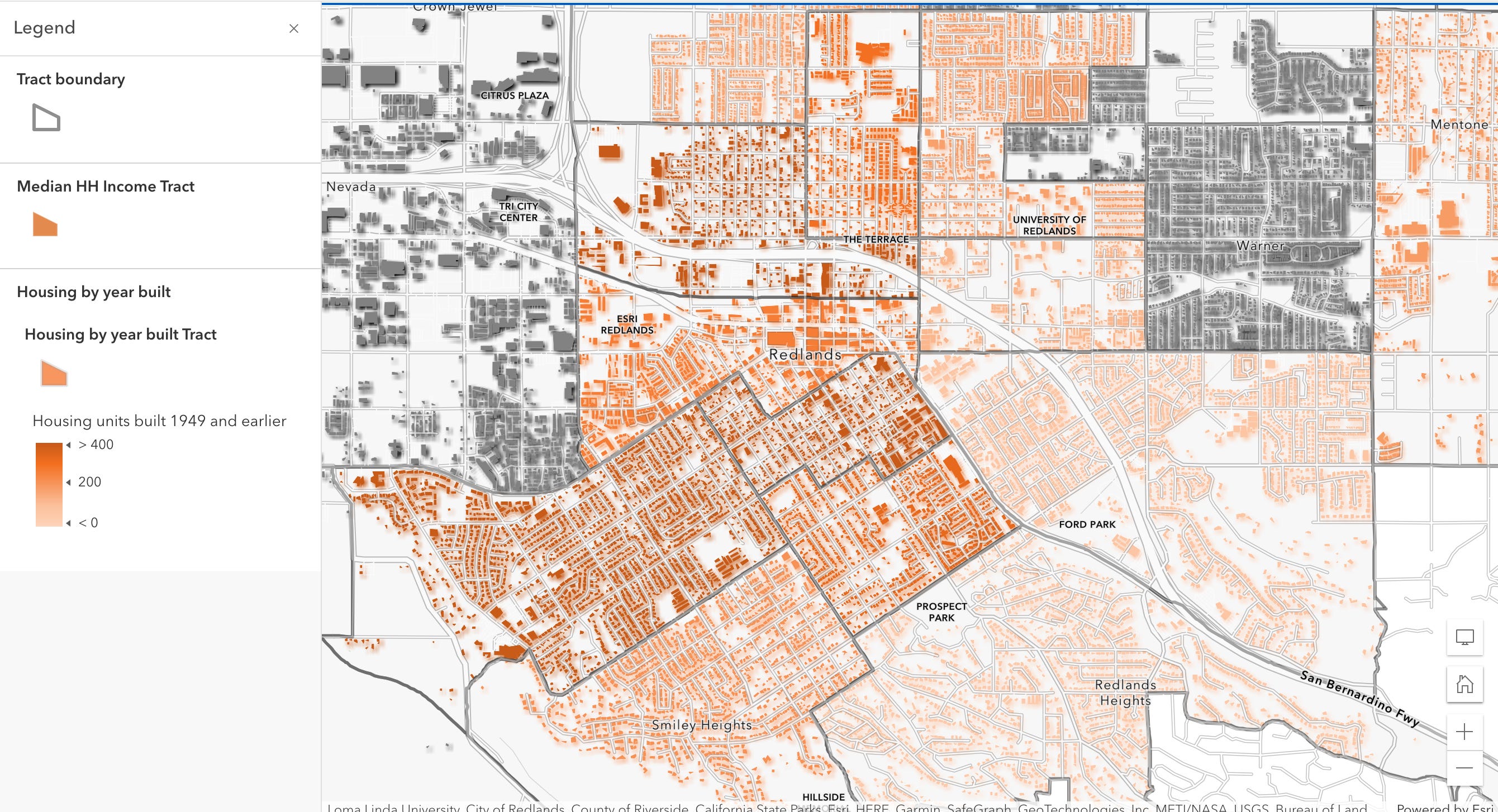 This map shows that neighborhoods around Olive Ave and Fern Ave, as well as neighborhoods between Colton and Lugonia, have a high number of older homes and household incomes that qualify for energy efficiency rebates. Click on the map to interact.
According to the Energy Information Administration, homes built after 2000 use 15% less energy per square foot than homes built in the 1980s and nearly 40% less energy than homes built before 1950. There is a large opportunity for retrofitting in Redlands with nearly 85% of homes built before 1990.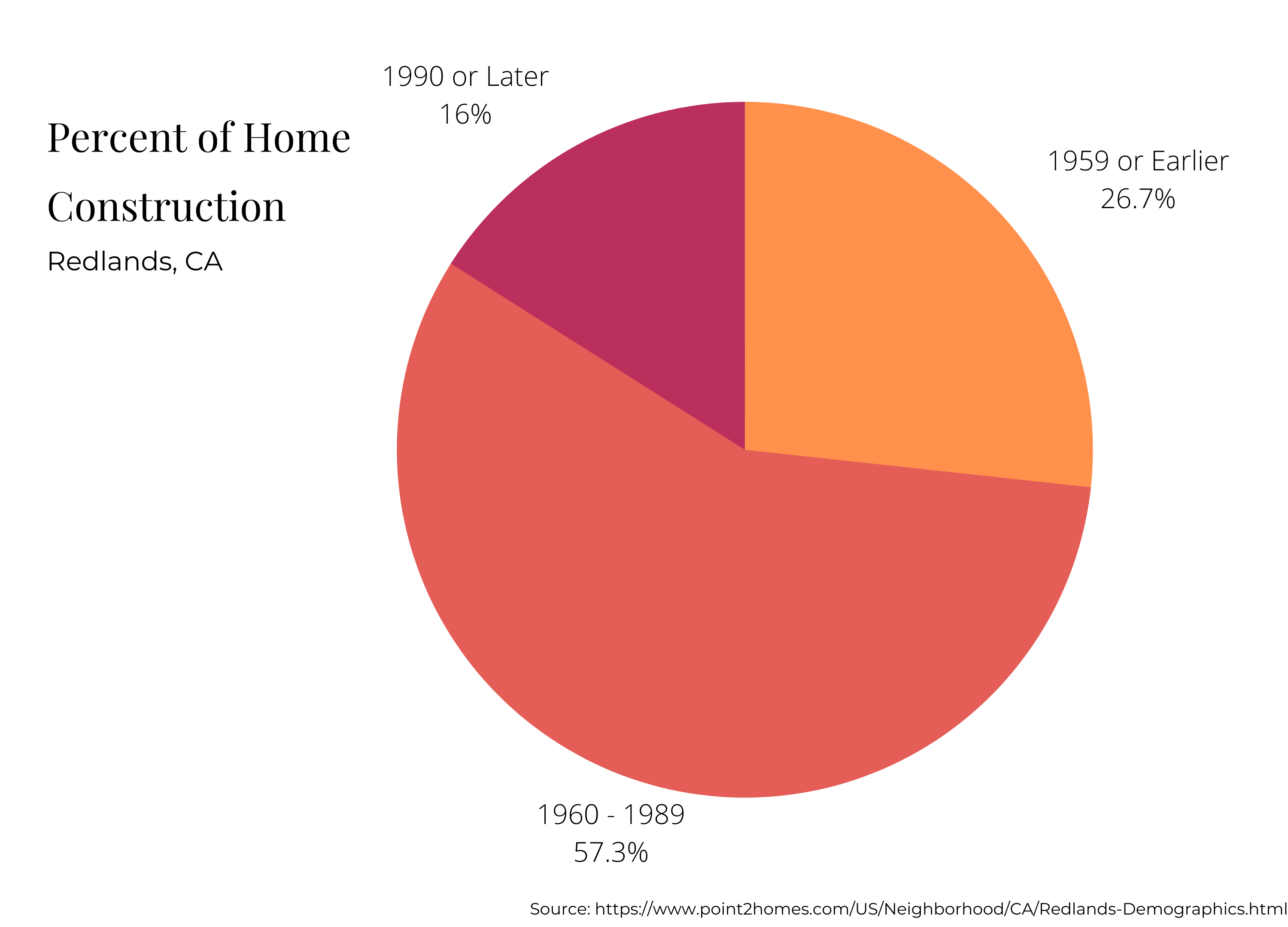 Due to the large number of older homes in Redlands, this type of individual investment in renewable energy would have a substantial impact on emissions in Redlands.  Based on the CAP's suggested goal of 50% energy reduction in 30% of homes citywide by the year 2035, residential efficiency retrofits could reduce emissions by 12,712 MTCO2e by 2035 (Sec. 4-5 CAP) which is equivalent to 2,739 cars off the road for one year.
That's approximately 3.5% of the projected greenhouse gas emission in Redlands.
Aside from the impact on community emissions, Rewiring America estimates that households that switch from gas to electrical can save on average $1,800 per year on energy bills.
Rooftop Solar
The IRA also provides tax credits for individuals to make rooftop solar more affordable for low and moderate-income households.
New tax credits include a 30% federal tax break for rooftop solar installations from 2022 through the end of 2032. The credit falls to 26% in 2033 and 22% by 2034.
There is also a bonus credit for solar projects, such as community solar, installed in low-income communities.
Redlands Solar Potential
Nationally about 3% of single-family homes generate electricity through rooftop solar panels.
This map shows where there is untapped solar potential in Redlands. Each census tract considers both potential for generating energy and the percent of households currently using solar.
The darker green areas have the lowest usage and most potential. For example, areas in North East Redlands have both high potential for solar energy and low adoption. Click map to explore more.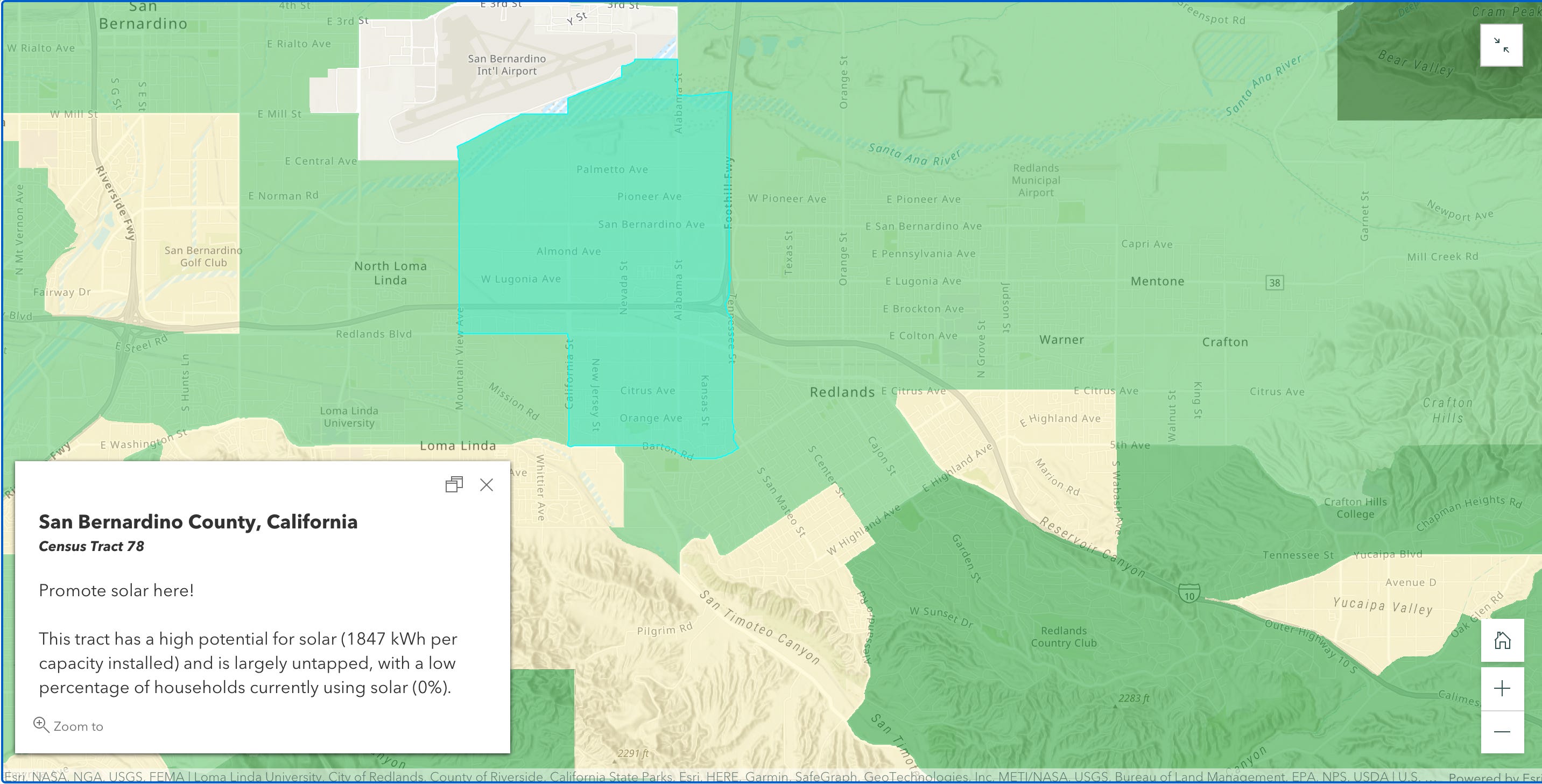 According to the CAP, residential and commercial solar (Sec 4-3) has the potential to reduce emissions by 13,144  MTCO2e by 2035.
That's equivalent to more than 2,832 cars off the road for one year.
Clean Transportation
Arguably, one of the most talked about incentives of the Inflation Reduction Act is the tax credit towards zero-emissions vehicles. The tax credit amounts to $7,500 for new clean vehicles such as electric cars, plug-in hybrids, and hydrogen fuel cell vehicles. Buyers can get a tax credit of up to $4,000 when purchasing a used electric vehicle. There are income and vehicle price limitations to the tax credits. Californians can use this website to figure out their total savings from state and federal rebates: Electric Car Incentives.
Shortly after the IRA was enacted, regulators in California announced plans to restrict and eventually ban the sale of gas-only vehicles.
City officials anticipate the impact in Redlands, "we would expect it to certainly have an impact on reaching the goal of reducing the carbon footprint in Redlands," said Carl Baker. The City Council on Sept. 6 approved a downtown parking study to be conducted by Walker Consultants Inc. According to a City Hall social media post, the study will look at current parking inventory, analysis of use, strategies to improve parking, and opportunities for new parking structures. The plan does not specifically mention the consideration of electric vehicle charging stations.
The sale of gas-powered vehicles will be prohibited in California in 2035.
Neighborhood Connectivity
A large component of Redlands current climate plan focuses on moving away from cars and focusing on connecting pedestrians throughout the city.
In the 1960s, highway construction ripped through communities across the country. The impact of this infrastructure displaced neighborhoods and ultimately cut communities in half.
The Inflation Reduction Act has set aside funding to address this and other negative community impacts created by imposing transportation infrastructure.
The Neighborhood Access and Equity Grant Program contains $1.89 billion for use in any community, and an additional $1.2 billion is set aside for economically disadvantaged communities, to address issues created by highway divides.
According to the US Department of Transportation, this effort is part of the first-ever Federal program aimed to reconnect communities cut off from economic opportunities by transportation infrastructure. The grant opportunity is open to cities until Oct. 13, 2022.
Trolley in Redlands
In Redlands, the I-10 freeway limits walkability from North Central neighborhoods to downtown, where many of the City's amenities are located. Right now residents in North Central Redlands who want to ride the train from the Downtown Station will have to make their way under a freeway.
This map shows the change in city-scape from 1960 to 1994, with a highlighted purple line in the path of Interstate 10. Click the map to explore more in Story Maps.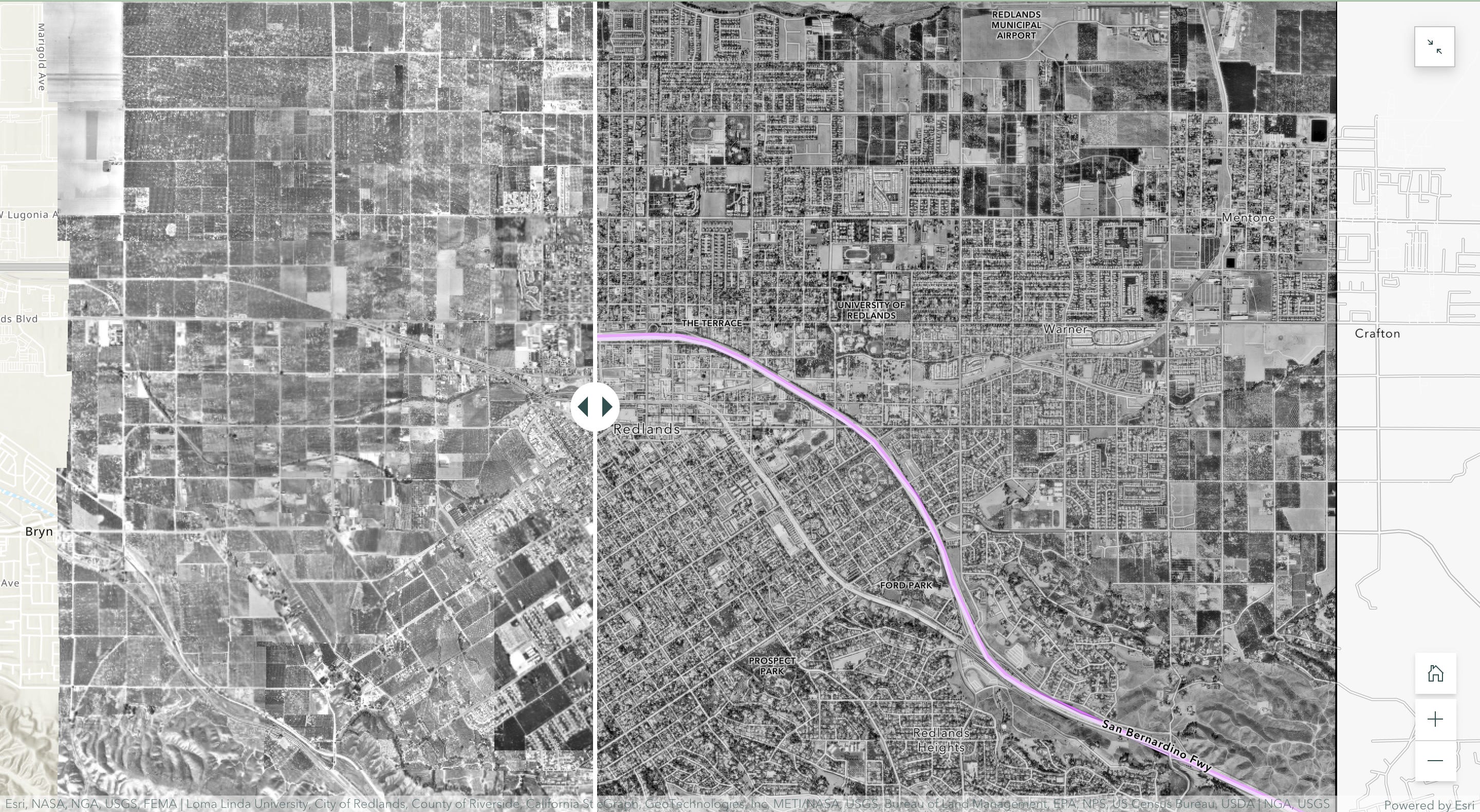 Left: Aerial Redlands 1960 Right: Aerial Redlands 1994 with highlighted purple line in the path of Interstate 10. Click the map to explore more in Story Maps.
The local Climate Policy Committee, recently established under the leadership of Council member Denise Davis, is looking into ways to reduce emissions and increase city connectivity. Valerie Rountree, Assistant Professor of Environmental Studies at the University of Redlands, who shared strategies for emissions reductions in last week's newsletter, proposed a free electric trolley to reduce car dependency within the city. The goal of the trolley would be to connect residents and students to the transit and downtown. Initially, the trolley would likely run on a short loop but would have the potential to expand. "The new development plans in Redlands are really going to go a long way," said Rountree, who is also on the Climate Policy Committee. "They're moving us in the right direction in terms of decreasing the amount of space that's dedicated to cars and increasing the density of housing."
The potential of a ride-free trolley, funded by state and federal grants, is in the initial research phase.
Environmental Justice
Highway divides are one example of how disadvantaged communities have be left behind in the national investment in infrastructure. When it comes to investment in climate change solutions, disadvantaged communities have faced legacy pollution and limited access to clean energy.
The Inflation Reduction Act works to address this through the following grant opportunities:
Environmental and Climate Justice Block Grants: $2.8 billion available for "community-led air and other pollution monitoring, prevention, and remediation," as well as mitigation of urban heat islands, reducing indoor air pollution, and climate resilience and adaptation. (Sec. 60201)
Community solar and other zero-emission technology: $7 billion for low-income and disadvantaged communities.
State and Private Forestry Conservation Programs: $1.5 billion to support tree planting by local governments, through the Urban and Community Forestry Assistance Program through September 30, 2031. (Sec. 23003). The Shade Divide newsletter discusses the importance of canopy cover in reducing severe heat and the inequitable distribution of trees in Redlands.
In addition to the funds set aside in the IRA, the Justice 40 initiative, introduced by the White House earlier this year, requires 40% of all federal investment in climate change action to be given to neighborhoods that are disadvantaged.
The Energy Divide
In Redlands, three census tracts meet the requirements for a Justice 40 category. These census tracts qualify for Justice40 under the categories of Climate Change and energy efficiency.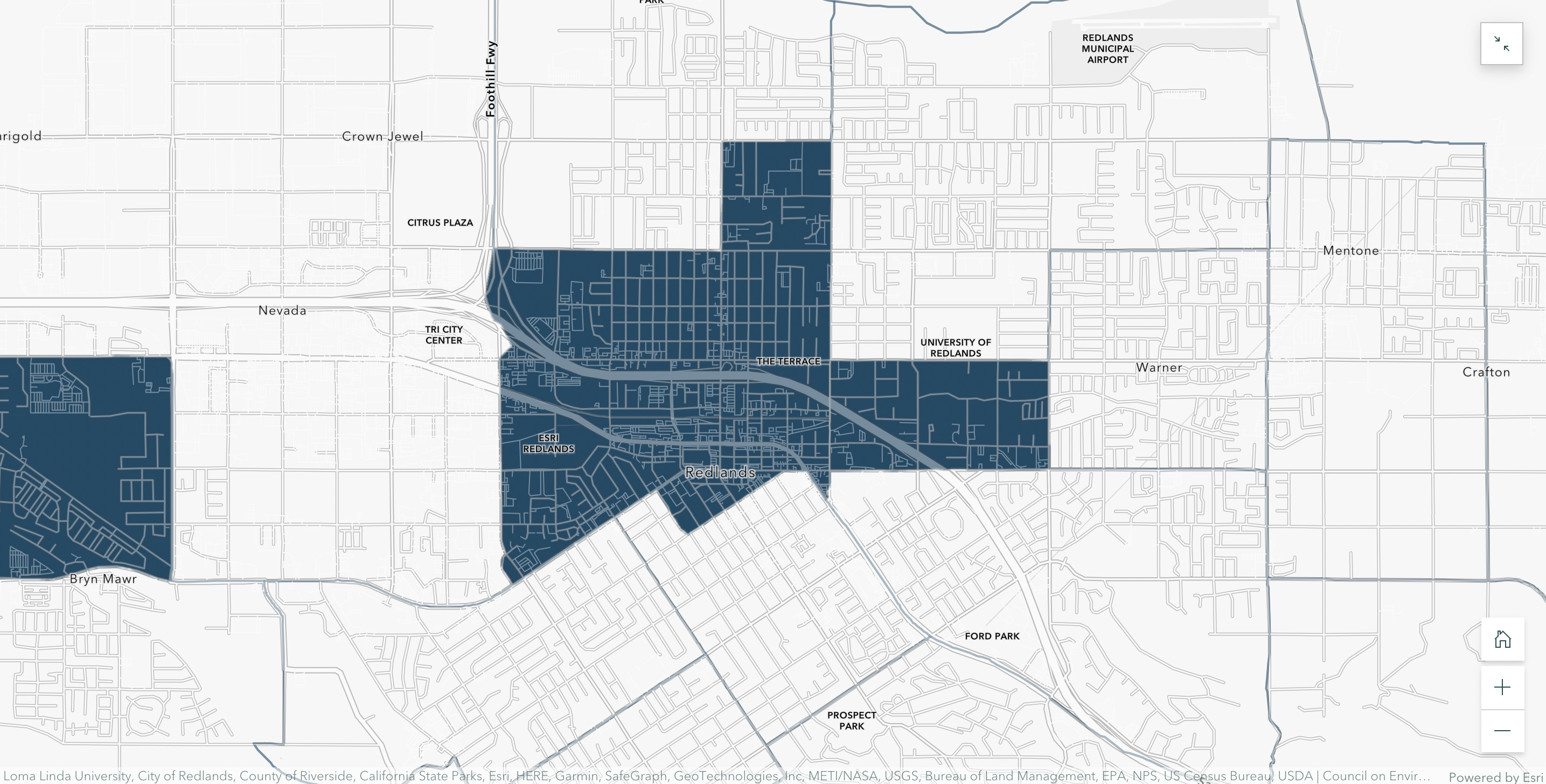 Clean Energy and Energy Efficiency Disadvantaged Tracts. Click the map to explore more in Story Maps.
A Net Zero City
Redlands has a new opportunity, backed by significant funding, to bridge the divide in shade, renewable energy, and climate mitigation through a focused effort to meet the City's emission reduction goals in these disadvantaged neighborhoods.
If all the programs outlined in Section 4 of the CAP were implemented, along with the state and local policies discussed in Reducing Redlands' Emissions, the overall reduction in emissions is projected at 125,968 MTCO2e per year.
That's equivalent to removing 27,142 cars off the road for 1 year or 30% of Redland's 2015 emissions.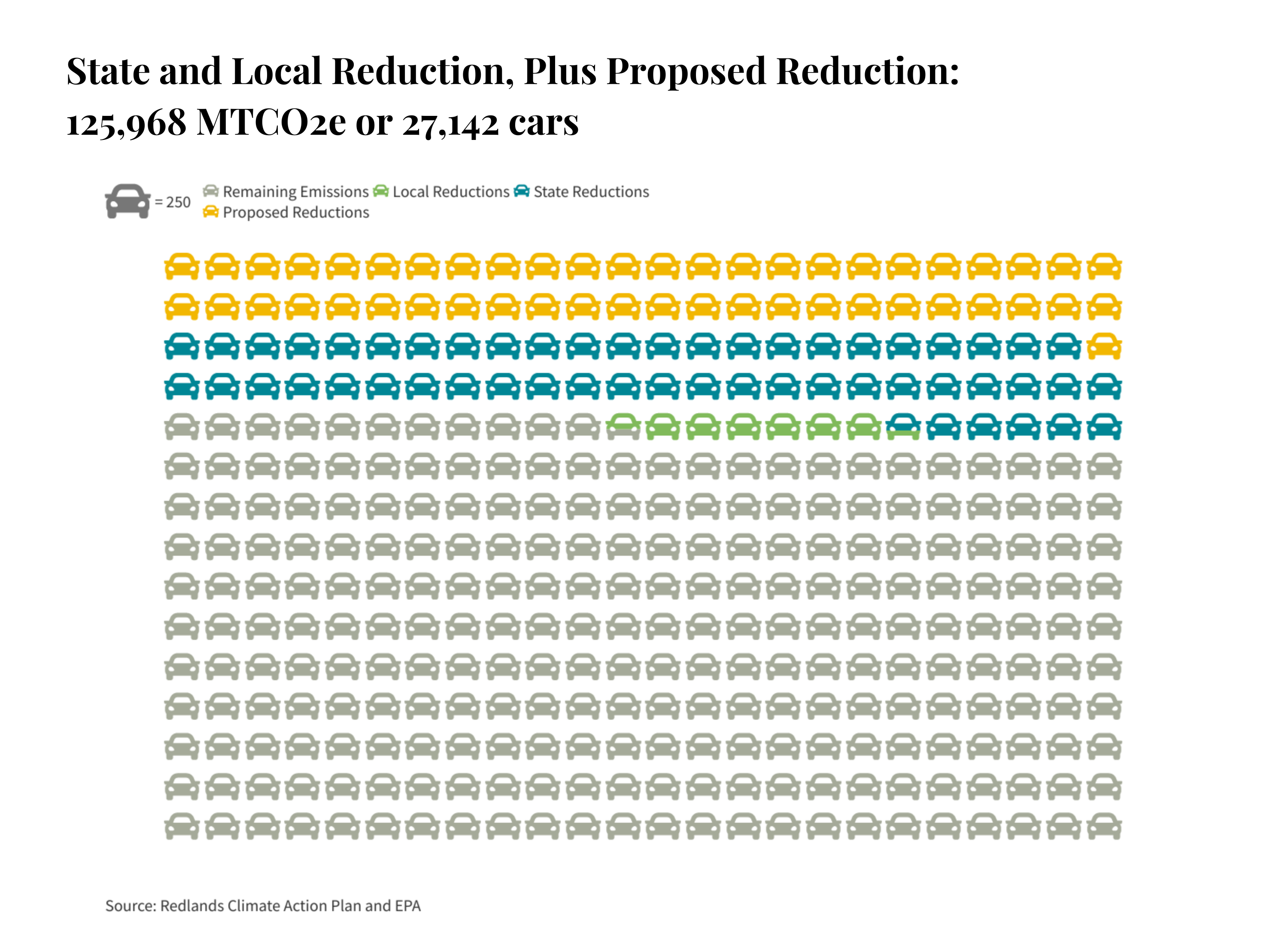 It's a start on the path to net zero emissions. As global temperatures continue to rise, finding ways we can move the community forward through energy efficiency, renewable energy, and a more interconnected city is more important than ever.
This post was edited to correct the dates of the solar tax credit eligibility and to update the map and data under the section "Old Homes, New Tech"
Thank you for reading Community Forward Redlands series on climate change. This post is public so feel free to share it.
Comments