REDLANDS, Calif. — The vision for neighborhood-based climate action took a big step forward over the weekend. Nearly 30 residents from one Redlands neighborhood gathered on Saturday, Nov. 4th, for a half-day Climate Action Forum. The gathering, organized by Accelerating Neighborhood Climate Action (ANCA), marked the first in Redlands.
The Climate Action Forum is a hands-on event designed to culminate in concrete projects neighbors can undertake over the next 3-5 years. Through a five-step process, residents go from learning about the far-reaching and complex issue of climate change to creating a measurable and achievable action plan for their community.
Why it matters: The impacts of climate change will be felt in Redlands through extreme heat, drought, and wildfires in the next 5o years, according to data compiled by ANCA. That's why the group says preparing for climate change impacts and reducing carbon emissions at the local level is essential.
Details: The central question driving the recent neighborhood forum was how this community, nestled between Redlands Boulevard, Center Street, and Brookside Avenue, could band together to fortify themselves against the impending impacts of severe climate change and reduce their carbon footprint.
1: Understanding the big picture
Extreme weather events, rising sea levels, biodiversity loss, drought, and impacts on agriculture are just some ways climate change will alter the world. Addressing the big picture of climate change requires a comprehensive and interdisciplinary approach involving science, policy, economics, and societal engagement. This also includes a community approach to addressing these issues.
Participants were given a briefing from ANCA volunteer Dick Cornielle regarding the severity of climate change. Cornielle also presented the objectives of ANCA to promote climate resilience in the Redlands area. This led to a lively discussion guided by professional facilitator and ANCA volunteer Becky Foreman.
2: Mapping the neighborhood
Identifying the neighborhood boundaries is the next step in making a hyper-local climate action plan.
A hand-drawn neighborhood map was presented to the group by Milan Hamilton. As neighbors identified landmarks and areas of interest in their community, many of the residents were meeting each other for the first time.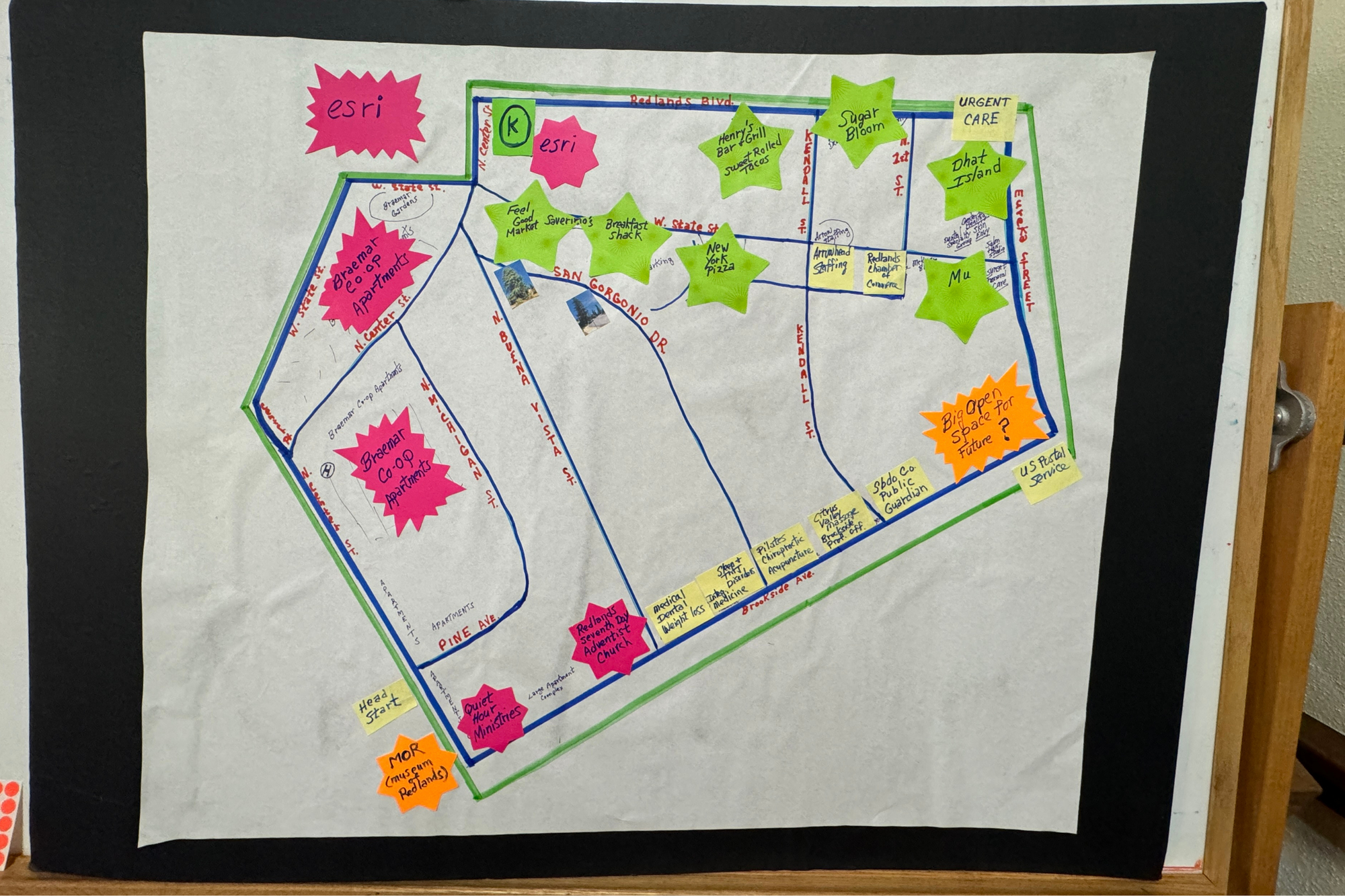 3: Seeing assets and vulnerabilities
With impact areas defined, neighbors began brainstorming the neighborhood's assets and vulnerabilities related to climate change.
Residents identified tree canopy, backyard gardens, and a diverse group of local businesses as some of their community assets. One primary concern was water use and the over-watering of lawns.
4: Ideas for a climate-resilient community
ANCA has developed a 10-point vision for a climate-resilient community. This plan is used to help spark ideas for neighborhood-based projects.
From water conservation to energy-efficient homes, low-carbon transportation systems, and localized economy, participant shared what they thought were the most pressing issues for their community. This became the foundation for brainstorming specific projects the group aims to tackle in the upcoming months.
5: Climate Action Projects that are measurable, doable, and impactful
The final step is to take all the information and develop impactful and measurable actions that can be undertaken at the neighborhood level.
Participants split into four small groups, each committing to a different vision, goal, and measurable outcomes for their projects over the next 12 months. Some of these projects include helping neighbors create ten pollinator-friendly gardens, better preparing the neighborhood for disasters, and increasing connections between neighbors and local businesses.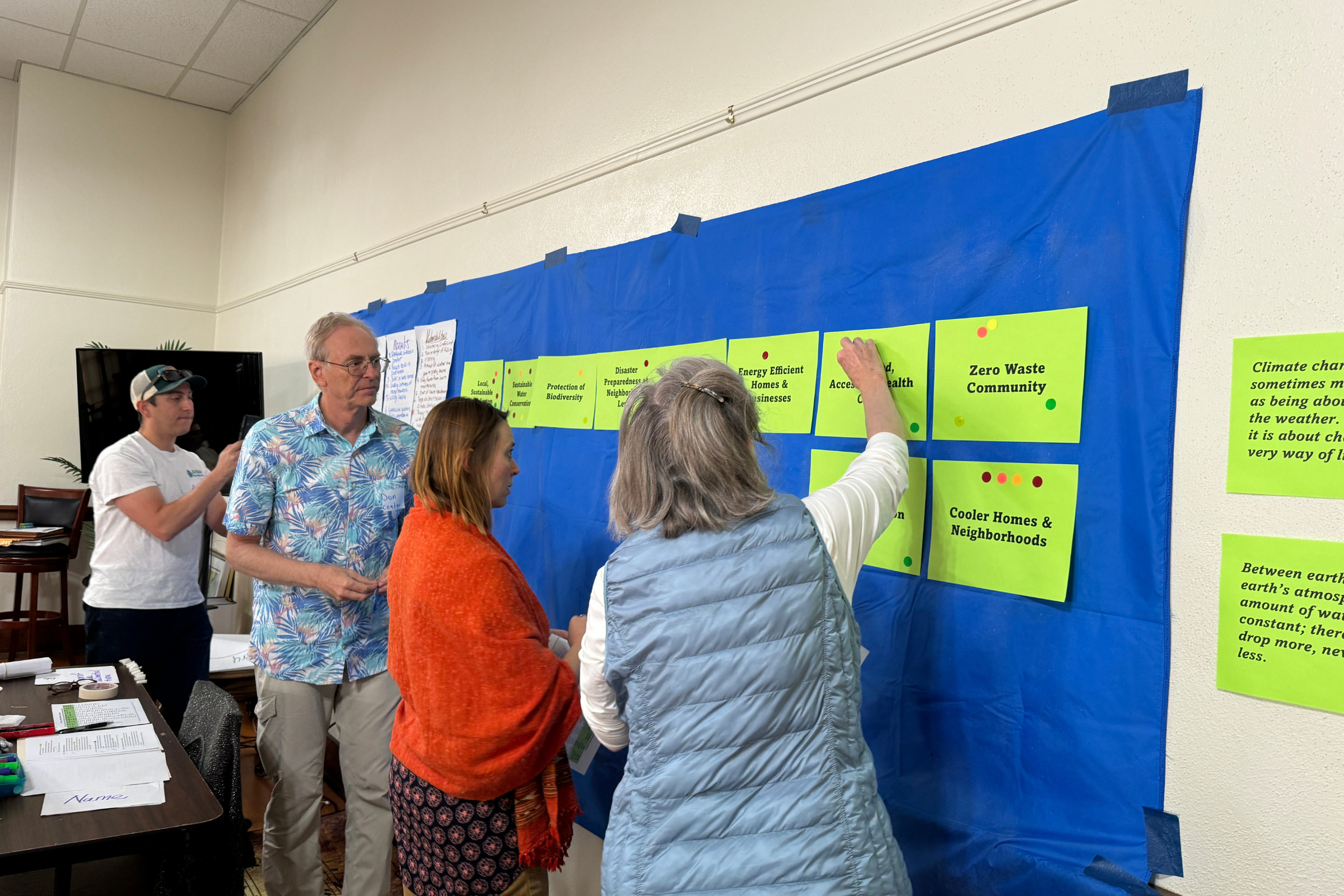 Just the start: Neighborhood Planning Forums are a pivotal strategy for ANCA Redlands in helping residents brace themselves for climate impacts and lower emissions. Event organizers say they were pleased with the engagement and ideas formed during the climate forum.
"We have been looking forward to this day for over a year, and it went far better than we could hope for a first-ever event," said Linda Hamilton, executive director of ANCA Redlands. "Participants had a very positive response. Of course, we've found areas we will tweak, but for the most part, we have a great model for other neighborhoods."
Councilmember Denise Davis stopped by the event and stressed the importance of fostering a more environmentally friendly Redlands.
"The Inland Empire has the worst air quality in the nation, and no other city is doing this work this way," Davis noted. "I'm so proud that Redlands is a leader in this."
Moving Forward: ANCA hopes other neighborhoods will adopt climate resilience strategies and carbon reduction efforts.
The next neighborhood forum is scheduled for January in the Kimberly area of Redlands.
Those interested in attending or launching an ANCA neighborhood can contact Neighborhood Coordinator Sarah Armes Harwood at sarah@ancainlandempire.org to get their community involved.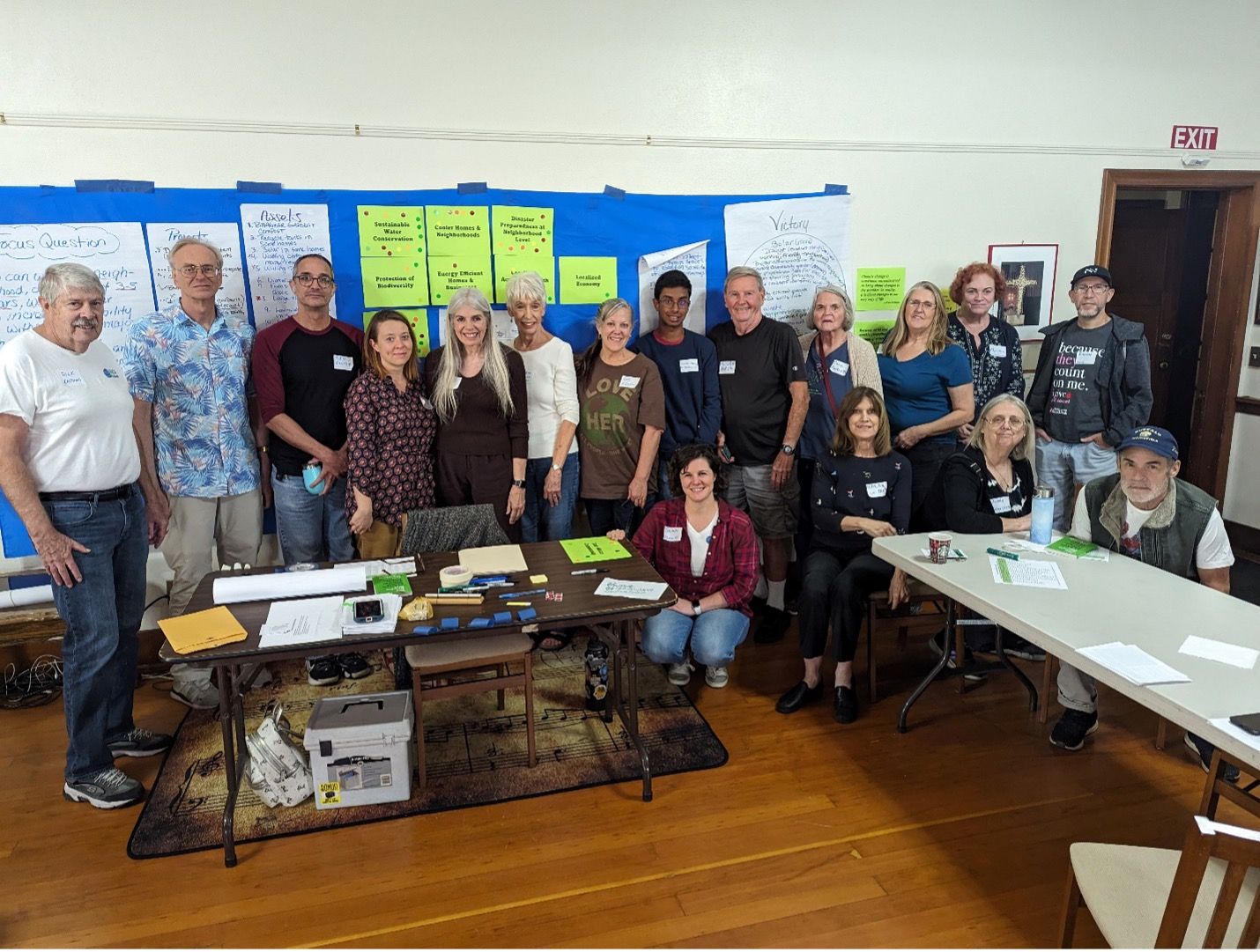 Comments