Updated Oct. 11, 2023: This article was originally published August 24, 2022. It has been updated with current maps and data including canopy cover, heat severity and city street tree data.
---
This week's newsletter is Part 1 in a series examining resilience, sustainability and environmental justice in addressing climate change.
REDLANDS, Calif. - As global temperatures rise, Redlands too is expected to get hotter. A grim prediction from the First Street Foundation's peer-reviewed heat model shows that in 30 years areas of San Bernardino County, including Redlands, will experience more regional "hot days." A "hot day" for Redlands means temperatures that "feel like" 101°F or more. Currently, Redlands has about 7 days that feel this hot, but by 2053 the study predicts that number will triple.
Trees are one solution to combat rising temperatures. Maintaining and growing an urban canopy cover can lower surface temperatures by as much as 45°F on a hot day and air temperatures by as much as 9°F. The cooling power of shade can prepare Redlands' neighborhoods for predicted hotter summers.
This newsletter takes a deeper look at Redland's urban canopy cover - ground shade created by a tree's branches and leaves - and how well it is distributed throughout the community. Areas with more canopy cover experience cooler average temperatures than neighborhoods where canopy cover is sparse. The data reveals a unique opportunity to prepare our community for climate change, while also addressing environmental inequity.
Read more about how Redlands residents are meeting the challenge to expand tree coverage neighborhood-by-neighborhood.
City of Trees
Through years of conservancy and intentional planting, Redlands has successfully maintained an urban canopy that stands apart from surrounding cities.
The community forest has grown into a dense network of public and private trees lining city streets and filling local parks and neighborhoods. The public tree system alone consists of more than 40,000 trees. Each dot on this map represents one of those trees. Click on map to interact.
Aside from reducing temperatures, this urban forest also provides beauty and character to the city, improves air quality, reduces water waste, and enhances property values.
Resilience Through Extreme Heat
The investment made by the city and community to maintain the urban forest is paying off. Areas of the city with denser canopy cover have temperatures at or below the city's average temperature, while areas lacking canopy cover are hotter than the average, sometimes by a lot.
This map shows Redland's canopy cover as part of the 2020 Global vegetation height map produced by EcoVision Lab in the ETH Zurich Department of Civil, Environmental and Geomatic Engineering. Areas shaded green and dark green have a denser canopy cover. Click on the map to interact.
Driving through the southern hills and neighborhoods of Redlands, you wind through a canopy of evergreen eucalyptus and cypress trees towering over streets and sidewalks. Some parts of South Redlands, including Prospect Park and Smiley Heights, have dense canopy but as you head north, that canopy cover begins to thin out and then disappears.
This map shows the relationship between canopy cover and surface temperatures across the city. Areas shaded from orange to red show where the average surface temperature is above the average for the city as a whole.
Source: Map shows the urban canopy cover in Redlands, CA in 2020 as the heat severity during the summer of 2022
The dark red areas in North Redlands that are "severely" above the city's average temperature have less canopy cover.
Identifying and filling in gaps in the urban canopy cover will help build resilience to rising temperatures and prepare the entire city for the changes expected to come as the planet warms.
Unequal Impacts
The increasing heat won't impact everyone the same. As temperatures continue to rise, a divide is created between rich and poor.
A study released last summer found that extreme heat is worse for lower-income people and people of color. Researchers used census data and satellite imaging to measure land surface temperature. They found that more often than not, it was neighborhoods with more people of color and lower income people that "experience significantly more extreme surface urban heat than their wealthier, whiter counterparts."
While heat-related deaths don't make headlines like flooding, fire or tornado fatalities, extreme heat is the leading cause of weather related deaths in the United States, according to federal statistics over the last 30 years.
In Redlands, the establishment and conservation of the city's urban canopy as a whole has been largely isolated to southern neighborhoods where the population is wealthier and predominate white. As a result, the benefits of the city's urban canopy cover is disproportionately felt in higher-income neighborhoods.
This map shows how shade is harder to come by in the city's lower-income areas. The areas shaded in turquoise are census tracts designated as opportunity zones or low income communities.
In addition to lowering temperatures, trees improve air quality. Trees remove air pollutants and help to reduce the demand for energy, which causes air pollution and greenhouse gas emissions.
Leaving the question of how a city that values trees and needs to prepare for climate change can move the community forward in an equitable way.
Local groups offer solutions
Neighborhood Tree Initiative
The opportunity to expand and maintain an urban canopy over the entire city is being picked up by residents. The local climate action group, Accelerated Neighborhood Climate Action (ANCA), understands well the potential impact of increasing the city's canopy cover neighborhood-by-neighborhood.
Founder of ANCA in California, Linda Hamilton, told me the group's main mission is to bring climate action down to the neighborhood level. The group has identified six focus areas that climate change will impact. The first on the list is extreme heat. To address this, Hamilton said one of the group's goals is expanding Redlands' canopy cover. The non-profit is partnering with the Sustainable University of Redlands Farm to help residents who want to plant trees in their neighborhoods be successful.
ANCA is unique in its approach to preparing for the impacts of climate change at the neighborhood level. Hamilton said, "the local level is the most important place where we can really make a difference to prepare our neighborhoods for the impact of climate change and reduce our individual Co2 emissions."
Now that ANCA has completed their planning phase, Hamilton said she is excited for the neighborhood forums this fall. During neighborhood forums residents are able to hear about the initiatives and goals created by ANCA. Then neighbors work together to create an action plan for what they want to do in their neighborhood over the next few years.
Get Involved: Anyone interested in making a climate change action plan in their neighborhood should contact Linda Hamilton at ancainlandempire@gmail.com for more information.
Conservation in Open Spaces
The Redlands Conservancy has been working to preserve the natural environment in Redlands open spaces for more than 20 years. The group recently planted 100 native trees - including re-planting lost oak trees - at Redlands Gateway Ranch in Live Oak Canyon.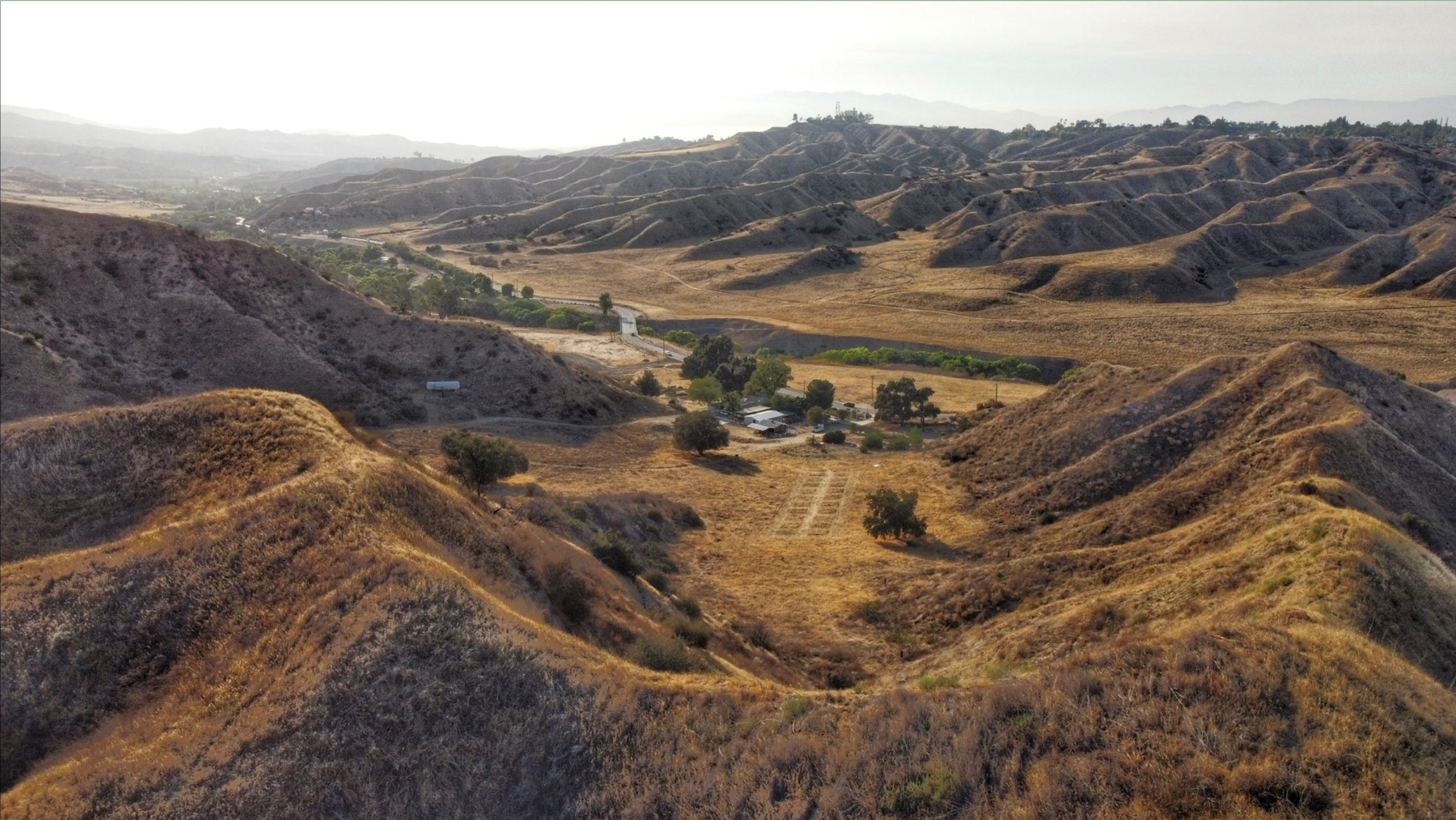 Redlands Gateway Ranch, photo courtesy of Redlands Conservancy
Kathy Havert, the coordinator for the Gateway Garden at Gateway Ranch, explained how planting native trees in Redlands is a path to both climate resilience and sustainability.
Because the current drought conditions will make it increasingly difficult to maintain our urban forest without more native trees, Havert said, "we need to re-think our strategy with trees going forward."
Havert recommends planting native trees and plants because they create the best home for native animals and require less water. "People can put a native tree in their yard and within about a 3 year period they can virtually ignore watering," said Havert.
Havert also shared with me that the methods used by the Conservancy to restore and cultivate trees in Live Oak Canyon can be used by anyone who wants to plant native trees in their yard.
One method she explained - the triple mulch method - is a process of mowing the area, soaking the ground, laying cardboard to prevent invasive species, and then adding natural mulch. Havert noted it's important to use all-natural mulch like wood chips to help protect and cultivate the tree's natural fungus. Havert explained that until recently, "people were unaware of how trees communicate under the soil so fertilizers, insecticides and herbicides have killed important fungus growth - called mycorrhizal - at the root of trees." Havert pointed out that native trees grow well without fertilizer.
As for which trees to plant, Havert suggested choosing native California Sycamore, Engelmann Oak or Coast Live Oak. The ideal time to plant your native trees is between October and March.
Havert acknowledged the challenge to expanding the canopy cover in areas where residents are not able to plant or maintain their own trees. She said that native trees, like the fast-growing drought-resistant California Sycamore, can be an appealing option for apartment owners or residents who want to save on water costs.
If you want some hands on learning about native trees and plants, Havert will be offering community class at Gateway Ranch this October and November.
Get Involved: If you would like to support the work on the Redlands Conservancy in maintaining parts of the city's canopy cover, you can learn more here. Or volunteer to be part of the Outdoor Ambassador program to help visitors on local nature trails here. The next ambassador training is September 10th, 2022.
City Street Trees
The City of Redlands manages a large network of trees. There are roughly 53,900 street tree locations throughout the City's right-of-way and City-owned property. Of those locations, about 46,000 are home to trees according to the City's website. These trees are managed by the city in partnership with the Street Tree Committee, which was established in 1998.
Mayor Pro Tem Eddie Tejeda (District 2), who represents an area in need of more shade, said education is an essential part of increasing the city's Canopy cover. Tejeda, who is also a member of the Street Tree Committee, shared that some residents are reluctant to water their trees because they do not want a higher water bill. "I'm trying to educate people and let them know it's important to water and keep the trees alive so they have the shade on their house and eventually a lower energy bill," said Tejeda.
When looking at the database of city street trees, you find a variety of tree types spread throughout the entire city. The database from the Redlands Hub Open Data also shows the vacant tree spots throughout the city. In the North Central area of Redlands with the least amount of canopy cover, there are approximately 3,000 vacant sites according to city data.
Map of City of Redlands vacant tree spots. Source: Redlands Hub - Open Data
Tejeda told me the City is interested in adding more street trees. However, there are other considerations like the management of the current trees and ensuring new trees do not ruin sidewalks.
That's why Tejeda said he advocated for an increased budget of $1 million per year towards tree trimming and maintenance over the last two years. Tejeda said the goal is "over a 4 year cycle we'll get 100% of the trees trimmed. And then maintenance after that can come down by about half."
Tejeda wants to see more trees planted, along with education on how to keep them alive. A possible funding route is through Measure J, the proposed increased warehouse tax that is on the ballot in November.
"I see that as a way the city can address climate change and having that extra funding through Measure J for both planting trees and community outreach," said Tejeda.
Get Involved: Opportunities for expanding our canopy cover:
You can plant a tree in honor of someone here.
Helpful information on how to water trees to reduce water waste here.
Some more helpful information on how to plant a tree here.
---
Comments